Best DeFi Crypto Coins And Tokens – July 2021 Week 4
The crypto market has traded in the red zone for the last two months. However, it is gradually welcoming back the bulls, and several decentralized finance (DeFi) protocols are rallying alongside. This article explores the best DeFi crypto coins and tokens you can invest in for future gains.
1. Compound Finance (COMP)
Kickstarting our best DeFi crypto coins and tokens list is the popular DeFi lending protocol Compound Finance.
Founded in 2017 by Robert Leshner and Geoffrey Hayes, Compound enables users to earn interest when they deposit their cryptocurrencies into the platform's pools.
The accumulated tokens are denoted as cTokens representing an individual's stake in the pool, and they are used to redeem the underlying cryptocurrency initially deposited into the pool.
Not catering to lenders alone, Compound enables borrowers to take secured loans when they provide requisite collateral. The maximum loan-to-value (LTV) ratio differs and is generally based on the uptake of the collateral asset. For now, it stands at 50 to 75%.
The COMP native token is used to govern the protocol, which allows COMP holders to vote on needed changes in the platform. It is also used in transaction fees settlement.
The COMP token has had a stellar year so far. Coming into the year $145.39, it has risen more than 500% to a record $854.48 in mid-May. However, it lost more than 50% of its value in the crypto market crash, trading below the resistance level of $492.96. It dipped further to $338.79 but is rallying in the last couple of days.
At press time, COMP is up 8.89% and is trading at $392.930.
The DeFi protocol is also looking at expanding its adoption and is launching a new Compound Treasury meant for non-crypto native businesses to access the benefits of the fast-rising DeFi space.
2. DeFi Coins (DEFC)
Our next best DeFi crypto coins and tokens is DeFi new entrant DeFi Coins.
Launched only a few months ago, DeFi Coins is out to educate crypto investors on the inherent benefits of the DeFi and NFT space.
It is also a decentralized liquidity pool that allows users to provide liquidity to several of its pools through its DEFC tokens. It also gives static rewards (up to 5% of all transaction fees) to users who hold the DEFC token.
DEFC is one of the hottest DeFi tokens in the space and has more than doubled its value since launching on centralized crypto exchange Vindax on June 30. It is also listed on decentralized exchange (DEX) platform PancakeSwap and crypto data aggregator website Coingecko.
Since listing on BitMart crypto exchange, DEFC has continued its bullish streak and rose 500% from its first trade of $0.25.
It currently trades at $1.26522 and is slightly down by 2.34%.
DeFi Coins is not stopping in its stride, and according to its roadmap, it will be launching a DeFi Coin mobile app meant to pursue its mission of educating investors on DeFi.
3. SushiSwap (SUSHI)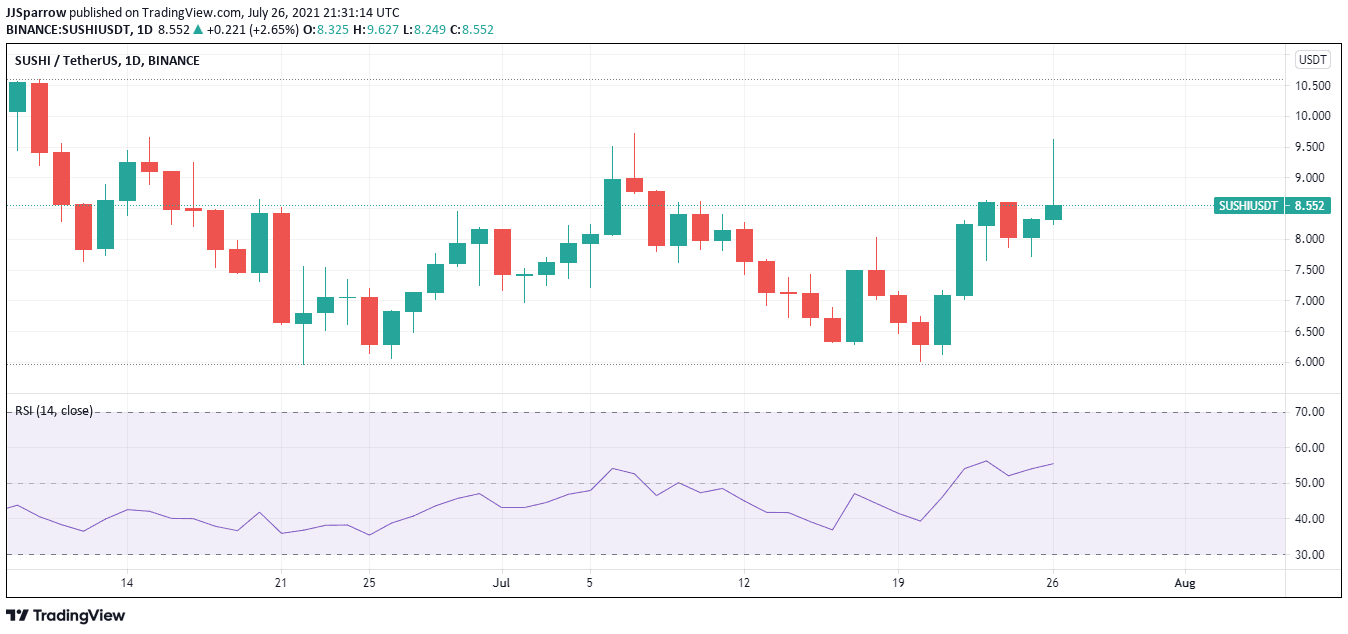 Currently ranked 68th on the global most valuable crypto rank, SushiSwap is one of the best DeFi coins and tokens to buy this July. SushiSwap is a type of decentralized protocol called automated market makers (AMMs). These are DEXs that enable smart contracts to create markets for any given pair of tokens.
Launched in 2020, SushiSwap is a fork of the popular DEX platform UniSwap.
It also promotes financial inclusion and uses additional features like increased rewards for network participants through its SUSHI token. SUSHI is used for network fees and governance.
Boasting over $1.1 billion in market cap, AMMs like SushiSwap have benefited from the increased interests in DeFi protocols.
These AMMs do not use order books like traditional and centralized crypto exchanges but largely depend on smart contracts to address any liquidity issues.
At press time, SUSHI is up 16.07% in the last 24 hours and trading at $8.522. This parabolic increase has largely been due to Bitcoin's overnight spike.
However, SUSHI has also carved a name for itself in 2021 after reaching a record $22.67 on March 13. Even though it subsequently dipped, it retested this level and rose to $21.73 on May 18.
It has felt the doldrums of the crypto market and is only just finding its feet after several months of trading below its record value.
To stay on top of the DEX ladder, SushiSwap recently launched a new AMM platform called Trident. According to the development team, Trident will encompass never-before-seen DeFi features. It will enable capital efficiency and an improved user experience.
4. Yearn Finance (YFI)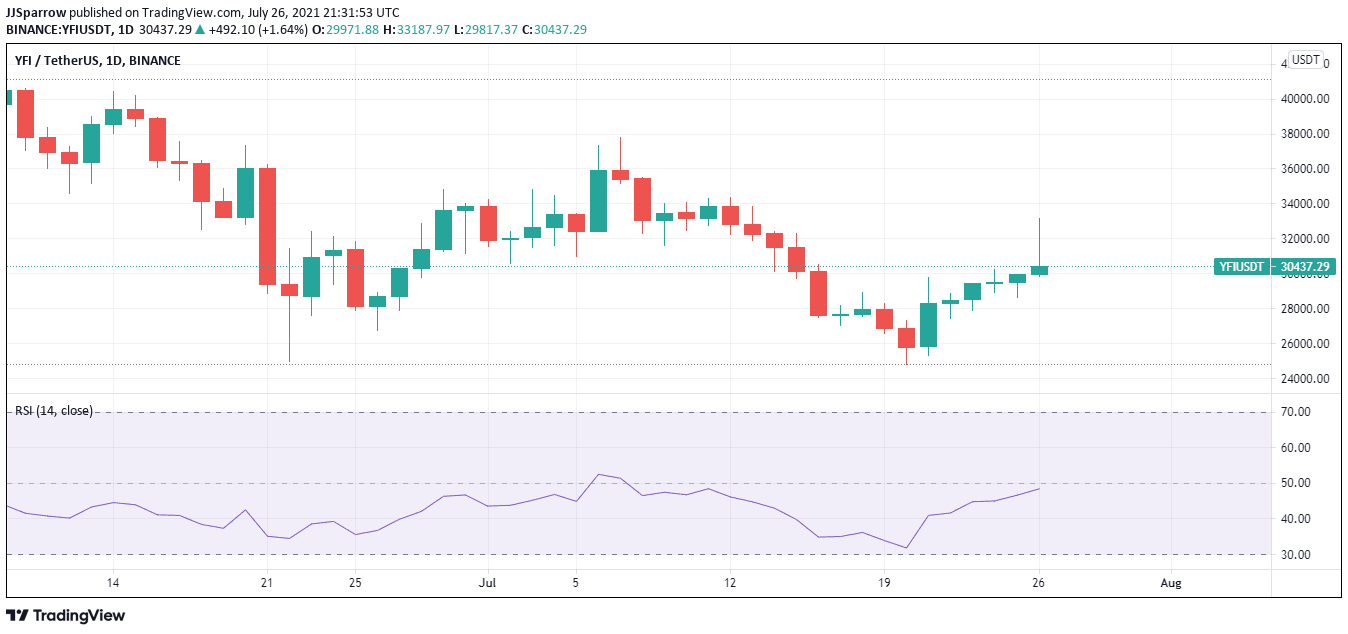 Another best DeFi coins and tokens you should add to your investment portfolio is Yearn Finance. Launched in Feb. 2020 by software developer Andre Cronje, Yearn Finance was once the most valuable cryptocurrency rising to a record $93,000 during the height of the crypto boom in mid-May.
Even though it has since regressed, Yearn Finance is still a major player in the DeFi space. The decentralized protocol runs an aggregator service for DeFi investors. It uses automation to enable them to maximize profits from yield farming.
According to Cronje, Yearn Finance wants to make DeFi investment easy for investors who are not technically-minded or want to interact with DeFi products in an 'off-hand' manner.
Its YFI token has had a rollercoaster ride this year after it surged to a whopping $93K. However, its value has dipped more than 50% after regulatory sanctions by Chinese authorities hit the crypto market. Despite this, YFI has remained in the spotlight and only briefly slumped to $25k on July 20.
Yearn Finance founder has recently made the headlines. In a blog post, Cronje announced a new DeFi protocol based on the forex markets called Fixed Forex. According to the post, users will be able to mint and exchange fiat-pegged stablecoins while providing collateral. At press time, it is trading at $30,424.38, up 11.14% from its yesterday price.
5. Aave (AAVE)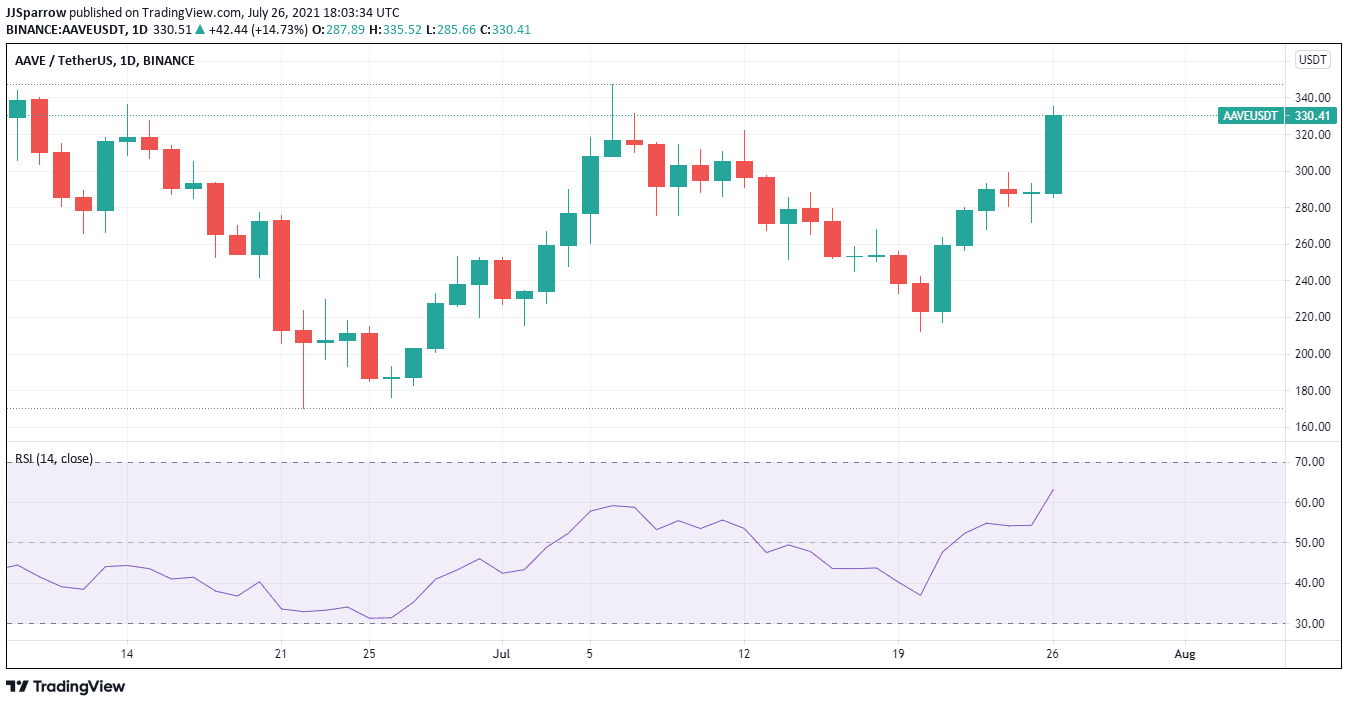 Last but not least of our best DeFi coins and tokens is the decentralized lending protocol, Aave blockchain.
Presently top of the DeFi ranks, Aave dominates the DeFi space with a majority stake of 15.54%.
It is a crypto protocol that allows users to lend and borrow digital assets.
Liquidity providers (LPs) or lenders earn interest when they deposit cryptocurrencies into the protocol's liquidity pools. The liquidity is now given out to borrowers who provide collateral to take out the liquidity.
Aave is also popular due to its innovative uncollateralized flash loan feature. Flash loans are mostly used by arbitrage traders who seek to benefit from the difference in prices between different crypto exchanges. However, these loans are to be paid back within one single transaction.
The Aave protocol supports more than 20 cryptocurrencies and is powered by its AAVE token. This digital token is used for governance and network fees.
Price-wise, AAVE is trading at $323.2499 and is up 17.92%. However, this is not the best price action of the token. It has increased more than 5,000% after surging to an all-time high (ATH) of $651.72 on May 18. It dipped following the Bitcoin slump.