Ethereum Looks for Support at $2,5000, PERL, XRP, AMP, Jun. 15
ETH
Ethereum sold off last week despite gains for Bitcoin and the coin is trying to find buyers above the $2,500 level. If weakness persists then a drop to the $2,000 level is possible, but a deeper sell-off would see the 50 moving average in play at the $1,200 level.
Investment bank Goldman Sachs has seen interest in institutional futures growing in ETH. Only a year after calling cryptocurrencies a non-asset class, the US banking giant opened up to Bitcoin and is now supporting Ethereum.
A month ago, a leaked report from Goldman said that there was a "high chance" that ETH could eclipse Bitcoin. The bank's analysts said:
The Ethereum ecosystem supports smart contracts and provides a way to create new applications on its platform. Most decentralized finance (DeFi) applications are being built on the ethereum network, and most non-fungible tokens (NFTs) issued are purchased using ether. The greater number of transactions in ether versus bitcoin reflects this dominance.
The latest news sees Goldman offering trading in futures and options for BTC and ETH and they have said that investor appetite is strong after the recent drop in price.
We've actually seen a lot of interest from clients who are eager to trade as they find these levels as a slightly more palatable entry point. We see it as a cleansing exercise to reduce some of the leverage and the excess in the system, especially from a retail perspective.
ETH trades around the $2,540 level and will look for support at this level to mount a further recovery towards the recent highs at $4,400. 
PERL
Perlin soared on Monday with a gain of 40% to start the week. 
PERL functions as a liquidity asset and a collateralization asset and users can stake PERL to earn incentives and over-collateralize your PERL to create synthetic (px) assets, eg. pxOil, pxCarbon, pxGold.
The network uses the underutilized computing resources of its users and the network will access the idle computing power of mobile phones, computers, and game consoles. Perlin can handle an impressive 1300 transactions per second and Perlin also offers a decentralized cloud marketplace. The role of miners on the Perlin network is to supply computational power. They register their unused computing resources on the network, and they are rewarded based on how long they rent out their computer power.
Customers can then access the marketplace to purchase computational resources from miners. The aim of the project is to make supercomputing viable, while also allowing users to crowdsource their tech for gain. The rating agency Crypto Briefing gave Perlin a score of 9.6 (out of 10), which is at a similar level to their analysis and ranking for Ethereum.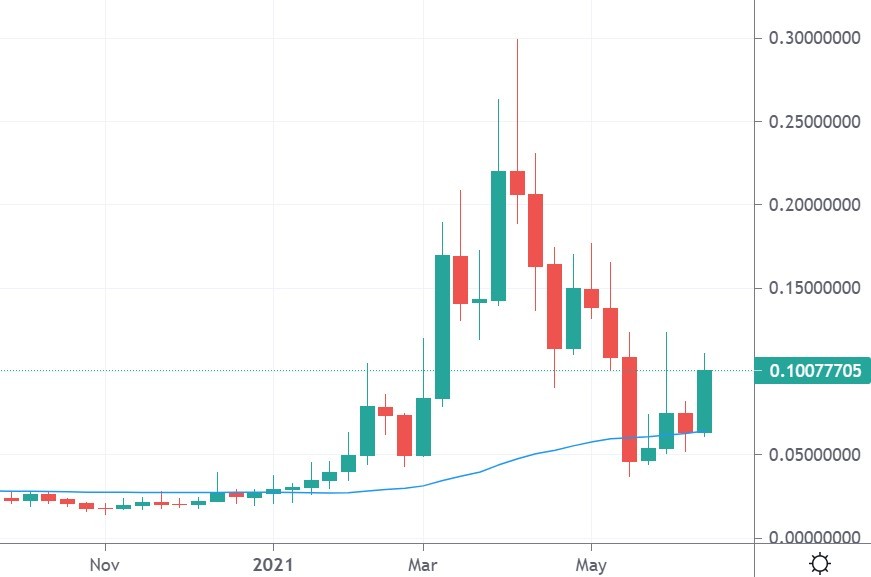 The price of PERL has soared this week with a move to the $0.100 level and the previous highs were at $0.300.
XRP
XRP has seen its price drifting on the week as the overall market remains cautious after the recent price crash.
Since the price of XRP peaked on April 7th, "whale" investors holding between 1,000 to 1,000,000 XRP have been building their positions in the coin with a move from 396,000 to 442,000. 
XRP is still weighed by the Ripple vs. Securities Exchange Commission court battle, where the regulator has accused the blockchain project of being an unregistered securities offering. 
The market regulator went to court with Ripple last December after accusing the project of selling unregistered XRP securities, which raised $1.3 billion for executives. Since then, the judge overseeing the case has given XRP investors hope by stating that the coin acts more like a currency than a security. There were other promising comments that support the XRP case but large investors are still wary of taking large positions in the coin before there is clarity.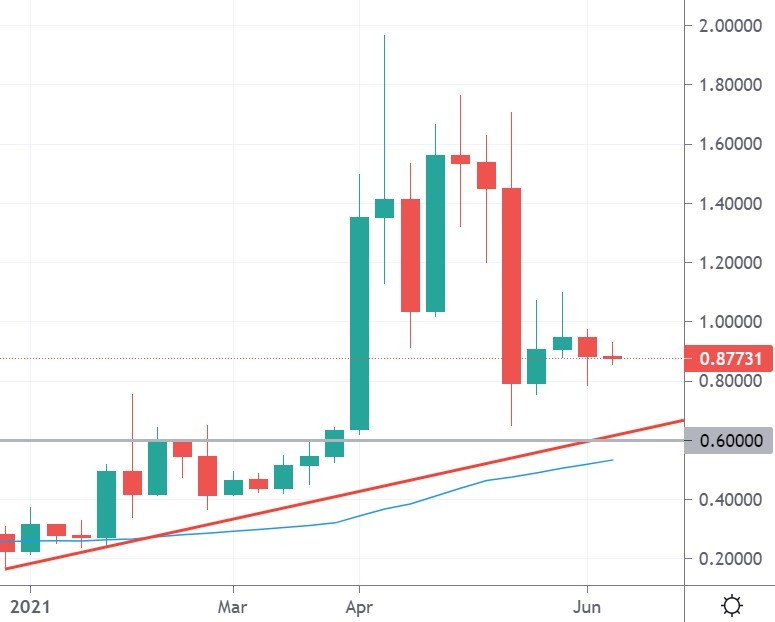 XRP trades at $0.87 but the has a strong support level at $0.60 that the market may want to test first.
AMP
AMP was the hottest cryptocurrency of the week with a near 100% gain. The price of the coin is now $0.09 with a market cap of $3.84bn, which sees the coin holding the number 29 spot in the list of coins.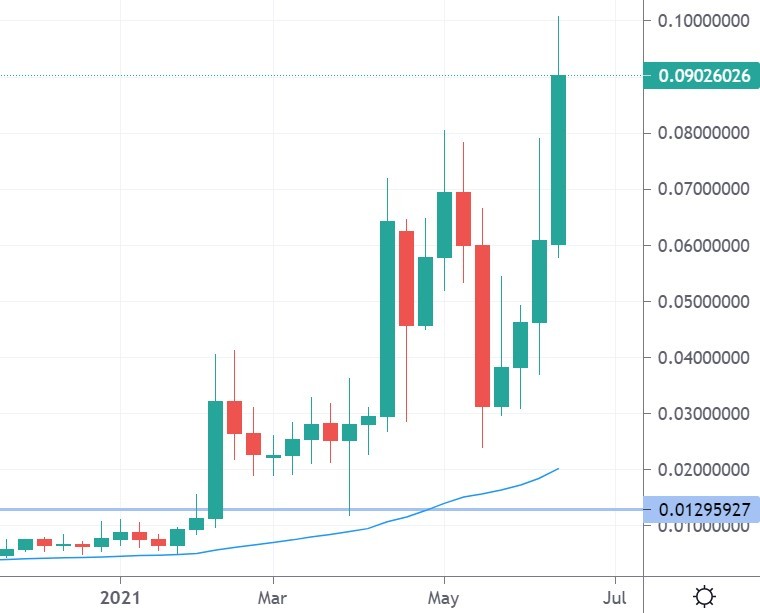 The Amp project is an extensive platform for collateralizing asset transfers. Users can stake Amp, and any form of value exchange can be guaranteed: digital payments, fiat currency exchange, loan distributions, property sales, and more.
AMP seeks to provide a "collateral as a service" platform where it is easy to build apps that lock and unlock Amp on-demand to secure transfers, enable lending, and make value move more quickly.
The price of AMP has hit the $0.100 level after soaring from the $0.005 level in early-2021.