XRP Price Prediction: XRP/USD Witnesses an Aggressive Price Upsurge Averaging a New All-Time Higher Level of $1.60
XRP Price Prediction – April 12
After a long-range-bound trading position recently experienced by the XRP/USD market valuation, the crypto has on April 5, beginning the northward move to set a new higher all-time trading zone near the resistance level of $1.60.
XRPUSD Market
Key Levels:
Resistance levels: $1.60, $1.80, $2
Support levels: $1, $0.80, $0.60
XRP/USD – Daily Chart
A long-awaited bullish candlestick has finally occurred on the XRP/USD daily trading chart at an upper range line signaling a breakout that puts the market line on a bullish journey now. The 14-day SMA trend-line and the bullish trend-line are below the current price trading spot pointing towards the north to still indicate an ongoing buying pressure around $1.30 level, The 50-day SMA indicator is located close to the recent-past upper range line of $0.60 to also point to the north direction. The Stochastic Oscillators have briefly reversed from the overbought region to now cross the hairs a bit over range 40 to the north. That also signifies that more buying potentials are still in the offing.
What could be the next direction in the XRP/USD market operations?
Virtually most trading indicators have showcased so much brighter back-up for the furtherance of XRP/USD bulls' run in this crypto-economy. As a result, it would be technically okay that traders be on the lookout for any possible decent buy entry the moment price tends to push northward more. However, a little price drop is necessary to take place before considering joining while the market makes a reverse for continuation-move resumption..
As of writing, it is not technically safe to consider a sell-off trading situation for this crypto market in the near session. In other words, it will a little more time to have a more clear-cut outlook as regards the bearish formation pattern of XRP/USD. Therefore, bears will have to relax their efforts in gaining the grand against the crypto stance.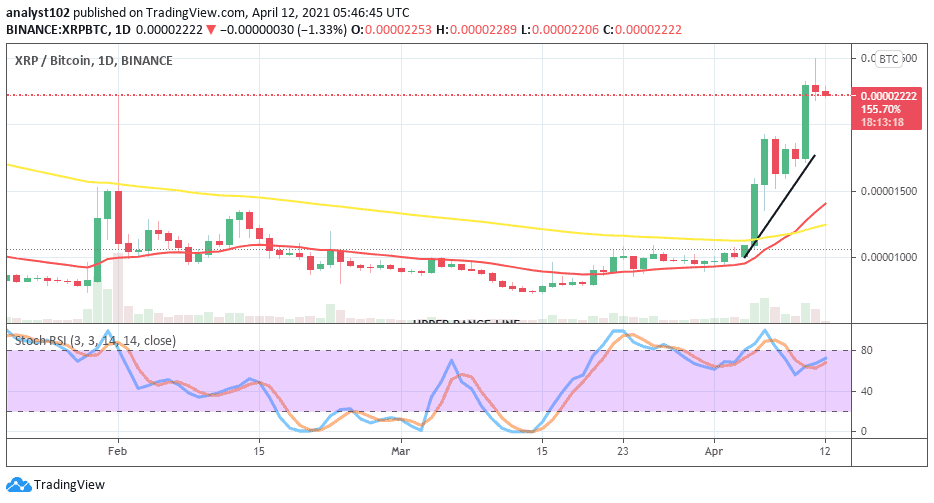 XRP/BTC Price Analysis
It is now apparent that the trading energy between Ripple XRP and BTC has been on the side of the base crypto as compared. There had been several attempts made in range-bound zones by the base crypto to push against the counter trading instrument lately. The 14-day SMA trading indicator has intercepted the 50-day SMA trend-line from the below to signal the dominance of XRP's purchasing power over Bitcoin's current trading situation in the market space of cryptos. The stochastic Oscillators have crossed the hairs near below range 80 to the north wearing a promising outlook in support of more northward pressures to come.