5 Best Cryptocurrency To Buy At Low Prices August 2021 Week 1
The cryptocurrency market has slipped downwards after last week's rally. Its total value now stands at around $1.6 trillion, having risen as high as $1.7 trillion. This is a fall of nearly 6%, with several of the major cryptocurrencies falling by even greater margins. However, with overall market sentiment remaining positive, the dip of the past few days offers opportunities to buy at a discount. In light of this, we've put together a list of the 5 best cryptocurrency to buy at low prices. This includes coins that are cheap relative to their long-term potential, as well as those that are cheap right now.
5 Best Cryptocurrency To Buy At Low Prices
1. Bitcoin (BTC)
Bitcoin (BTC) had a very good weekend, hitting as high as $42,628 on Sunday. It has retraced its steps since then, falling to a current price of $38,700. This represents a 2.2% fall over the past 24 hours. That said, it's 3.7% above its price from a week ago, and 25% beyond its price from 14 days previously. It's also up by 11% in the past 30 days and by nearly 250% in the past year.
Given its recent rise over the past few weeks, BTC is now only 40% below its all-time high of $64,804. Still, this is pretty cheap for a cryptocurrency which a large number of analysts within the industry believe will rise much higher.
For example, prominent Twitter analyst @CryptoKaleo recently predict that bitcoin will pass $100,000 in the latter half of 2021.
My predictions for the second half of 2021:

– $BTC enters 6 figure price discovery
– $ETH breaks above $10K
– We see one more major alt season
– More institutional / government adoption
– More institutional / government FUD
– Cryptunez gets a girlfriend
– Bears remain bearish

— K A L E O (@CryptoKaleo) June 17, 2021
He's not the only analyst who has high expectations for BTC. Back in July, a survey of 42 cryptocurrency researchers and executives arrived at an average end-of-year prediction for BTC of $66,284. And looking at the long-term, their median prediction for BTC's price by 2030 was a hefty $470,000.
This is why bitcoin is one of the 5 best cryptocurrency to buy at low prices. And with German law now permitting institutional funds to invest as much as 20% of their portfolio in crypto, expect BTC to rise fairly soon.
2. Axie Infinity (AXS)
Axie Infinity (AXS) has had something of a comedown since setting its all-time high a week ago. At $52.17, it had risen by over 200% in a week. However, it's now 25% below its ATH, at $38.72. This still represents a 126% rise compared to two weeks ago, as well as a nearly 400% rise compared to a month ago.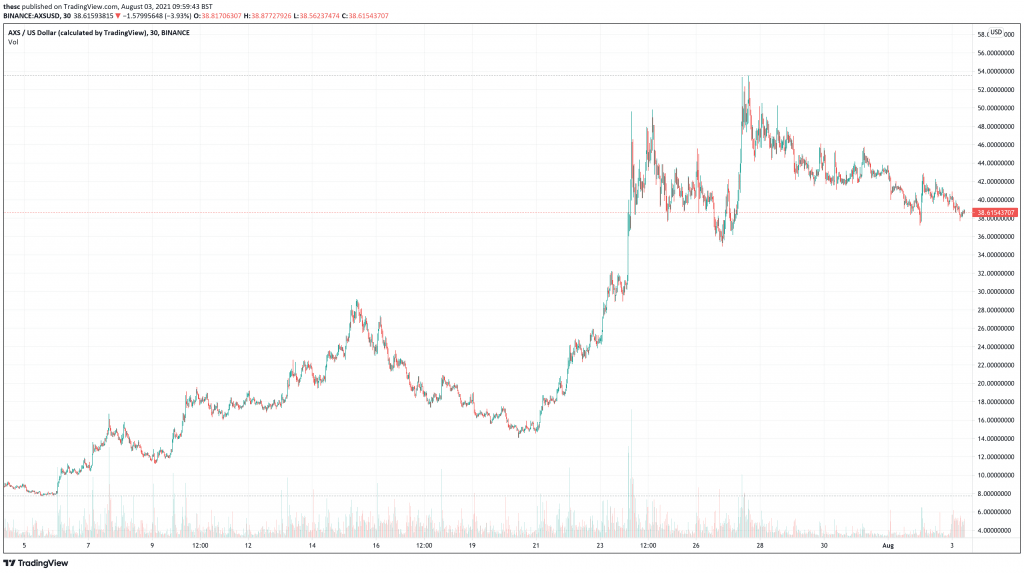 Despite falling by 25% since its ATH, AXS' fundamentals remain just as compelling. Axie Infinity has nearly reached one million daily active users, with its latest count topping 910,000. This means its user count has risen by 160% in a month, and about 800% in two months.
With growth like this, it's only a matter of time before AXS sets new all-time highs.
Today is Data Monday- with another update about @AxieInfinity growth on twitch!

In the last 90 days:
-2.8 million hours of Axie watched
-2,725 unique Axie broadcasters

We've averaged 1,332 viewers across 22 different channels at any given time.

Great work everyone! pic.twitter.com/2w9rY6Jjw2

— Andrew Campbell (@ZyoriTV) August 2, 2021
3. Ethereum Classic (ETC)
Ethereum Classic (ETC) currently stands at $49.36, having fallen by 3.5% in the past 24 hours. It is, however, up by 1.7% in the past week and by 17.6% in the past 14 days. It's up by 587% in the last 12 months.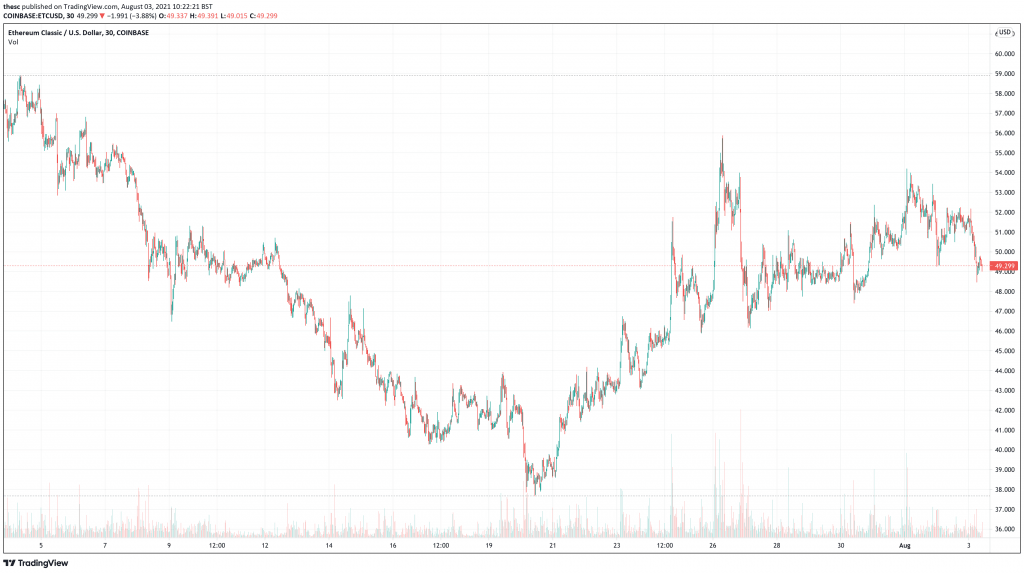 ETC hit an all-time high of $167 in early May. Hype surrounding Ethereum 2.0 helped it in this respect, with the general expectation being that Ethereum Classic would receive orphaned ETH miners, once the transition to 2.0 is complete. If it does (Ethereum 2.0 is due around the turn of the year), this will significantly boost its security.
However, the people behind Ethereum Classic have plans to enhance the platform on its own merits. Developers activated the Magneto upgrade at the end of last month, bringing Ethereum's Berlin updates to Ethereum Classic.
The Magneto fork has been activated on the Ethereum Classic network!

If you have not please update your node software.

Learn more about the Magneto upgrade below.https://t.co/FN06EOfngC

— ETC Cooperative (@ETCCooperative) July 24, 2021
At the same time, ETC supporters make plenty of noise about the fact that, unlike Ethereum, it has a limited supply (of 210 million ETC). This gives it good potential as a long-term investment vehicle, with its community referring to it as "programmable digital gold."
#EthereumClassic is the canonical extension to #Bitcoin the EVM was intended:
– programmable (smart contracts)
– digital scarcity (210 ml $ETC)
– proof of work
– immaculate conception (whatisgravity)#ETC programmable digital gold, the center of the debate. This is the way pic.twitter.com/HDcfTLrVmL

— Ethereum Classic (@eth_classic) July 27, 2021
4. Uniswap (UNI)
Uniswap (UNI) has had some good news from an unlikely source recently. At $21, it's down by 5% in the past 24 hours. However, it's also 13% up in the past week and 33% up in the past fortnight. On the other hand, it's 53% below the all-time high it set on May 3, when it reached $44.92.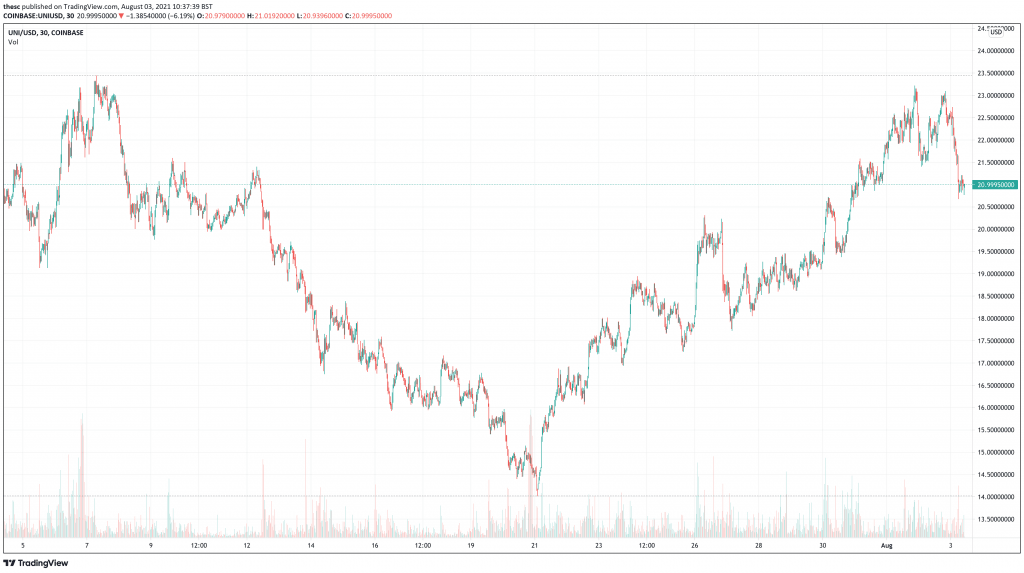 As for that good news, the infrastructure bill passed by the US Senate recently got hearts racing in CryptoLand. This bill proposed to extend the definition of "broker" to pretty much any entity that moves cryptocurrency, with an explicit mention of decentralised exchanges. However, in a revised draft of the bill, the mention of DEXes has been removed.
In other words, Uniswap is likely to escape the stringent reporting requirements that may be imposed on cryptocurrency within the United States. And at a time when centralised platforms such as Binance are already feeling the rap, this puts Uniswap in a good position to rise higher in the coming weeks.
5. Quant (QNT)
Quant (QNT) is one of the best-performing coins of the past 90 and 30 days. Unfortunately, it's down by 10% in the past 24 hours, at $147.51. Nonetheless, it's up by just over 60% in the past week and by 122% in the past 14 days. It's also up by 87% in the past month and by a whopping 1,800% in the last 12 months.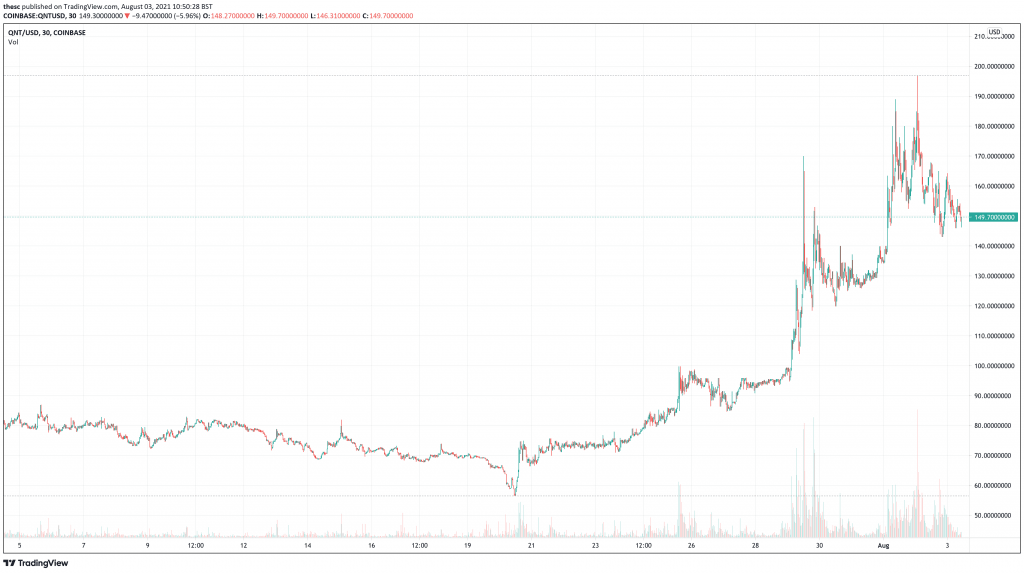 Quant is a platform that provides universal blockchain interoperability. Founded back in 2015, it has grown significantly in recent months and the cryptocurrency ecosystem has grown around it. In particular, the market has become excited about it due to the impending arrival of various central bank digital currencies. Quant is pushing hard to offer itself as a way of making the world's various CBDCs interoperable. If it's successful in this endeavour, then it's value will rise considerably.
All CBDCs should be interoperable domestically which gives commercial banks choice and allows for cross border transactions. Our Multi-Ledger Token System (MLTS) removes single DLT limitations with interoperable CBDCs that run on multiple DLTs at the same time. @quant_network https://t.co/Qed4c3v76F

— Gilbert Verdian (@gverdian) July 10, 2021
67% of retail investor accounts lose money when trading CFDs with this provider