5 Best Cryptocurrency To Buy for Long Term Returns July 2021 Week 4
Knowing the best cryptocurrency to buy can be challenging even now as the market recovers. In this article, we explore the 5 best cryptocurrency to buy for long term returns as we round up the second half of the year. Let's jump right in.
1. Bitcoin (BTC)
Starting our list of 5 best cryptocurrency to buy is crypto bellwether Bitcoin. Created by a mysterious character named Satoshi Nakamoto, Bitcoin has drawn interest from far and wide. It is also the first decentralized virtual currency.
As per trading volume and market share, Bitcoin is top of the ladder, with most cryptocurrency exchanges supporting the top digital asset.
This has largely been due to Bitcoin's deflationary tendency. Hardwired into its code by Nakamoto, there can only be 21 million BTC tokens ever created. This has aided BTC's rise, with many institutional investors dubbing it the "digital gold."
Institutional adoption has also grown, with several key figures and companies adding Bitcoin to their treasury. A major player is the US software company MicroStrategy which reportedly owns more than 100,000 BTC in its treasury.
Countries are also joining the Bitcoin wagon, and the first among a growing line of admirers is the Latin American nation El Salvador. The small American state has approved Bitcoin as a legal tender after the US Dollars. Other North American nations are also considering the idea.
For the Marshall Islands, it said "was once a nuclear test site for the US, and is composed of more than 1,200 islands." El Salvador was introduced with a picture representing Bitcoin. pic.twitter.com/VNvFYRAskX

— Raphael Rashid (@koryodynasty) July 23, 2021
However, 2021 has seen Bitcoin attain a unicorn status while leading the crypto market to its first trillion-dollar valuation.
The asset surged to $65,000 in April this year, although its price later tanked. Currently, Bitcoin has climbed by 3.88% in the last 24 hours. It is trading at $33,671.85, according to CoinMarketCap.
Despite growing regulatory action, Bitcoin still has an unmatched growth runway ahead. The cryptocurrency recently attracted the interest of Jack Dorsey, the CEO of Twitter. In a recent earnings call, Dorsey said that Bitcoin would be a big part of the company's future.
2. Binance (BNB)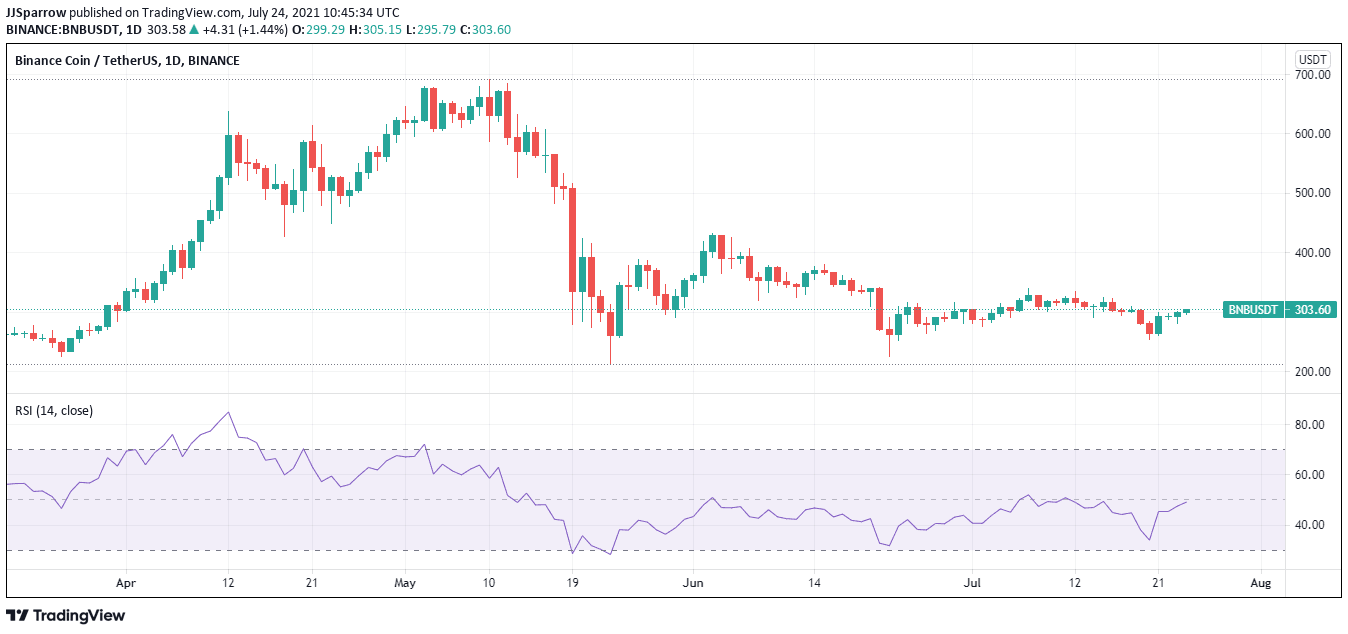 Binance Coin (BNB), the native token of the Binance exchange, is one of the largest cryptocurrencies by market capitalization. Founded in 2017 by Changpeng Zhao, BNB is second on our list of the 5 best cryptocurrency to buy.
The asset is issued by the Binance crypto exchange and secured by the Tendermint byzantine-fault-tolerant (BFT) consensus mechanism. The Binance blockchain does not rely on the proof-of-stake (PoS) consensus, neither does it use smart contracts. Instead, it uses the delegated proof-of-stake (DPoS) and proof of authority (PoA).
BNB started as a discounting feature for traders on the Binance exchange, but it has grown to be so much more, in the last few months.
It also powers the Binance Smart Chain (BSC). The BNB token has largely experienced growth this year, moving from $38.24 in January to an all-time high (ATH) of $650 in early May. It currently trades at $303.70, up by 2.17% in the last 24 hours.
Several #HedgeFunds have backed away from trading and other activities on #Binance in response to the accelerating regulatory crackdown on the #Crypto exchange, chart @FT https://t.co/eOwzx6pfgl pic.twitter.com/FkkXV1neFG

— ACEMAXX ANALYTICS (@acemaxx) July 24, 2021
Despite the recent regulatory crackdown on the Binance exchange, BNB has continued to post positive price action. Binance CEO Changpeng Zhao, in an online event today, revealed that its US subsidiary is considering going public through an initial public offering (IPO).
3. Solana (SOL)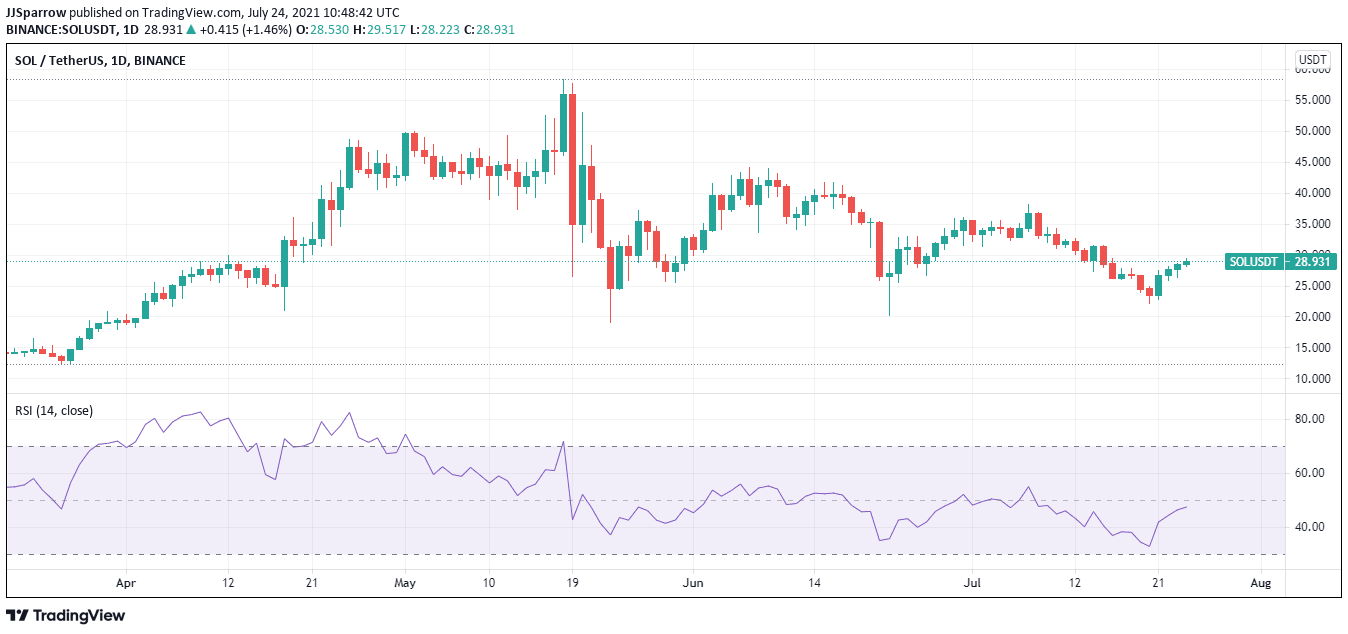 Solana is another one of the 5 best cryptocurrency to buy right now. Dubbed the "Ethereum killer," Solana was launched in 2020 by Anatoly Yakovenko.
The Solana blockchain is an open-source protocol that aims to provide decentralized finance (DeFi) solutions and the seamless development of dapps. The network is more scalable than Ethereum as it uses a hybrid consensus architecture comprising its proof-of-history (PoH) timing mechanism and the proof-of-stake (PoS) consensus algorithm.
The SOL token is the governance asset of the blockchain. It is also used for payment settlement. Like several cryptocurrencies, the SOL token has grown significantly this year, moving from $1.3 on January 1 to $55.91 on May 18. It currently trades at $28.63 and is up 4.43% on the daily chart.
Solana has attracted several DeFi and dapps platforms recently. The latest is Neon Labs which just launched an Ethereum Virtual Machine solution on the Solana testnet.
4. Cardano (ADA)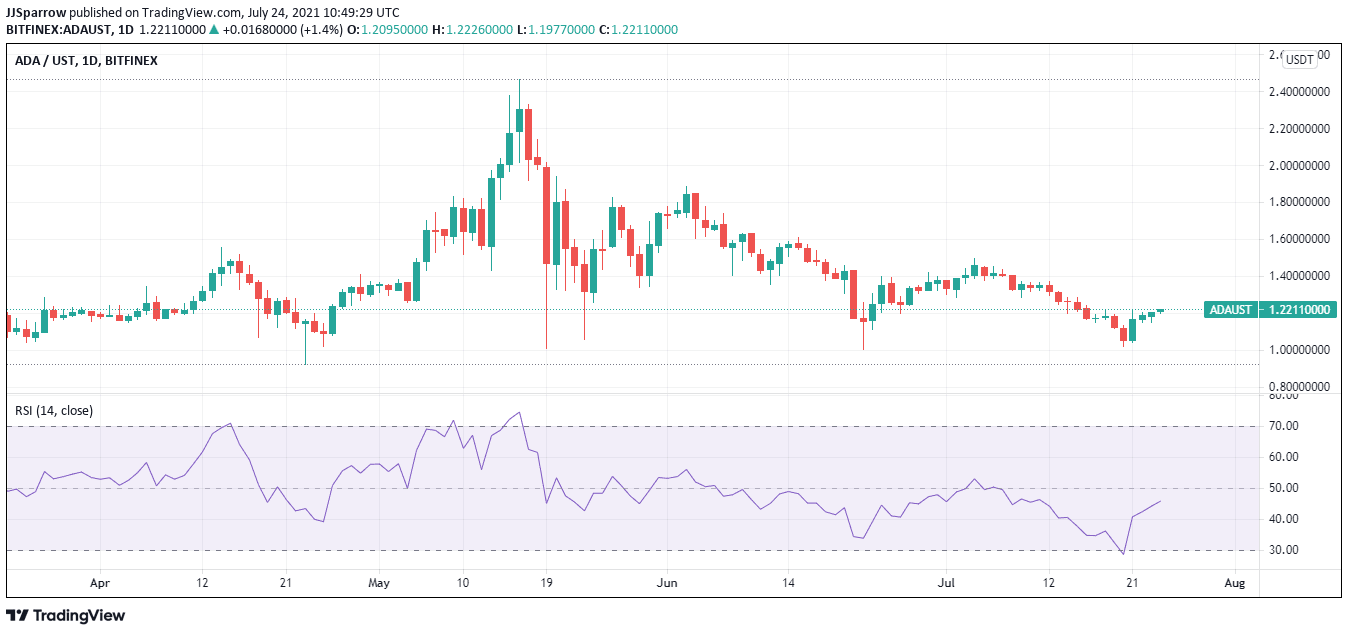 Cardano was founded by Charles Hoskinson and developed by Hong Kong-based Input Output Hong Kong (IOHK). It prides itself as the third generation of blockchain technology because it aims to solve the problems of its predecessors, such as Bitcoin and Ethereum. Cardano is an exciting crypto project, which is why it's on our list of the 5 best cryptocurrency to buy list.
Cardano is a fast, scalable, and secure blockchain network. Unlike Bitcoin, you can't mine ADA–Cardano's native asset. Instead of miners, there are validators chosen by the network depending on how much ADA currency they currently own.
Talking about price, ADA trades at $1.20, up 1.67% from its previous trade yesterday. The asset has grown from its start price of $0.1753 this year to a record $2.3091 on May 16. However, it plunged to $1.324 a week later.
The Cardano network has been consistent in following its roadmap to full launch and has released upgrades to its network. It is currently working on its Alonzo platform. So far, it has rolled out the Alonzo Blue hard fork, which brought smart contracts to the network. The present Alonzo White node will enable the minting of non-fungible tokens (NFTs) and decentralized finance (DeFi) in the Cardano platform.
LET'S GO: We are happy to share that we have just released a brand new version of the #Cardano node, version, #AlonzoBlue 2.0 to the testnet.

This is an important milestone – thanks and congrats to all the #AlonzoBlue team for the hard work to bring us here #Cardano $ADA
1/4 pic.twitter.com/slcd1TgQtl

— Input Output (@InputOutputHK) June 14, 2021
Cardano is working on web and mobile integration. The Cardano founder recently revealed that the team successfully ran the Plutus smart contract application backend in Javascript, the most widely used programming language on the web.
5. Polkadot (DOT)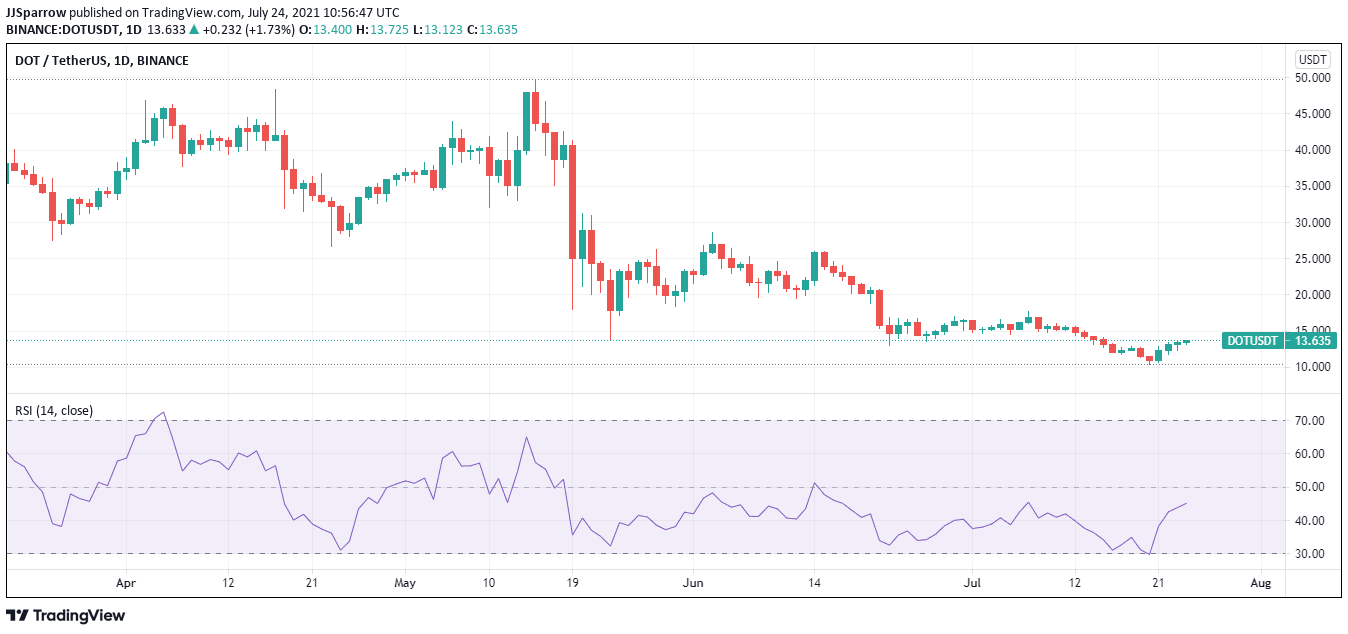 Developer Dr. Gavin Wood launched Polkadot. It is a heterogeneously-sharded multi-chain crypto protocol that enables the building of smart contracts and new blockchains and tokens.
Polkadot is an open-source project by the Web3 Foundation and Parity Technologies. It is built on Substrate, which allows the trustless distribution of information. We regard Polkadot as one of the 5 best cryptocurrency to buy right now, thanks to its ability to enable a scalable and secure blockchain platform.
The Polkadot blockchain platform comprises both the parachain structure and its parathread architecture. Blockchain protocols or apps can choose between launching on any of them.
While Parachains are independent chains that have their tokens operating in the Polkadot ecosystem, Parathreads only operate under a 'pay-as-you-go' model, making them a short-term offering. Unlike parathreads, parachains are only secured through auctions.
The DOT token serves as the governance token for the network and is used to pay network fees in the Polkadot ecosystem.
DOT started the year at a price of only $9.044 but has since moved up from that range. It surged to $48.36 on April 17 and reached its all-time high of $48.68 on May 15. However, this May crypto market crash saw DOT dip more than 50% to $15.49 a month later. DOT's price currently is at $12.84 USD, with a 24-hour climb of 2.51%.
Polkadot is getting its blockchain ready for its parachain auctions. Its sister network, Kusama, is currently having its parachain auction that will enable blockchain platforms to launch on the Polkadot ecosystem.
Karura, the Polkadot implementation of the Acala protocol, just launched its decentralized exchange (DEX) platform, Karura Swap. Karura was the first Kusama parachain slot auction winner back in June, with over 501,000 KSM staked in the crowd-loan process.