5 Best Cryptocurrency To Buy For Lower Risk Returns July 2021 Week 4
In our roundup of the best cryptocurrency to buy for lower risk returns, we mention some popular names like XTZ, LINK and VET. These assets might not be as large as Bitcoin, but they provide reasonable returns with low risks. Let's jump right in.
5 Best Cryptocurrency To Buy For Lower Risk Returns July 2021 Week 4
1. Chainlink (LINK)
Starting our best cryptocurrency to buy for lower risk returns list is blockchain abstraction layer Chainlink.
Founded in 2017 by Sergey Nazarov, Chainklink allows the feeding of data to and from the blockchain.
Not looking to solve any of the blockchain trilemma questions, Chainlink seeks to create a decentralized oracle network that will allow blockchains to securely interact with external data feeds, events, and payment methods. In addition, it provides critical off-chain information needed by complex smart contracts to become the accepted form of digital agreement.
It is run by an open-source community of data providers, node operators, smart contract developers, researchers, and security auditors.
This way, no single point of failure exists as decentralized exchanges (DEXs) can rest assured that the data they receive is not corrupt, incorrect, and timely.
It powers the Price Data of most decentralized finance (DeFi) applications like Synthetix, Aave, Yearn Finance, and several others.
Price-wise, Chainlink has experienced major ups and downs. It continued its amazing streak surging to a record $52.2 on May 9 before dipping to $23.9 on May 22. Closing 2020 at $11.47, Chainlink native token LINK surged to an impressive figure of $34.11 on Feb. 20. It rallied to $30.66 before dropping further.
At press time, LINK is up 4.78% and is trading at $15.277. However, it is trading below the 20-day moving average (MA) support price of $17.055 but its relative strength index (RSI) is at 40.39.
2. VeChain (VET)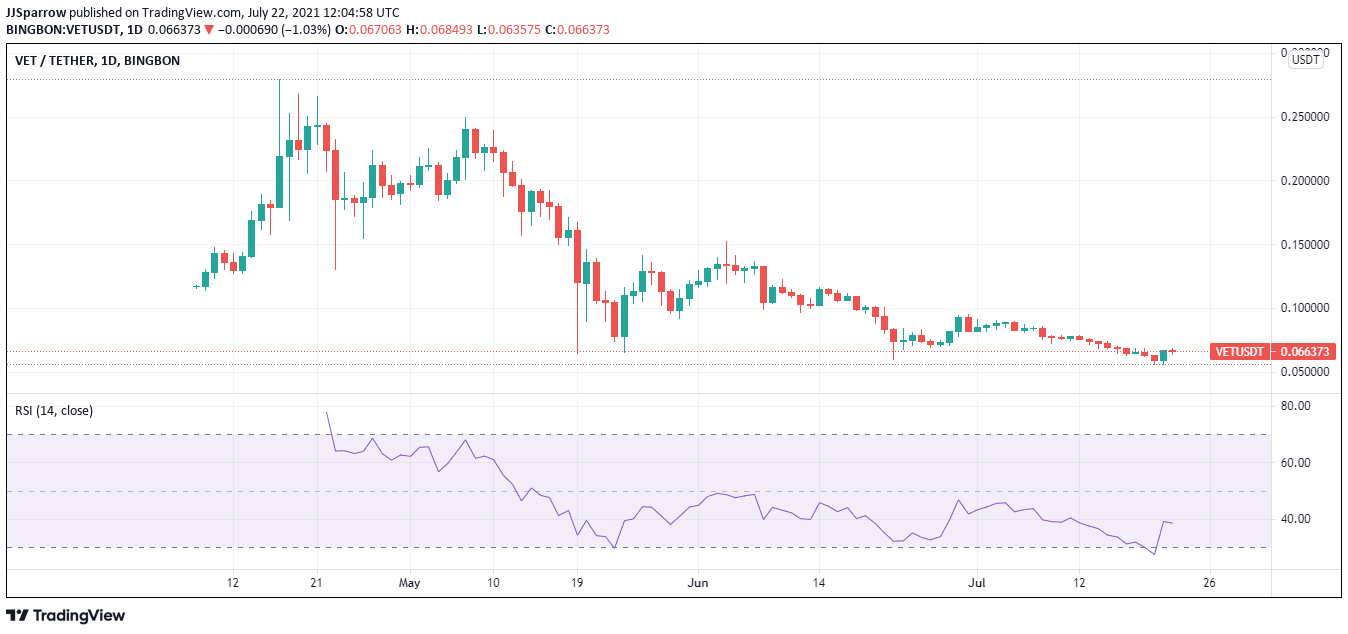 Next on our best cryptocurrency to buy for lower risk returns is supply chain blockchain firm VeChain. Launched in 2015, VeChain is out to improve the supply chain and product lifestyle management industry while leveraging distributed ledger technology (DLT).
VeChain makes it easy for corporate institutions and businesses to track a large amount of data ranging from quality, storage temperature, and transportation status of their goods and services. This helps companies to cut down on their overhead cost and ensures accountability and transparency in moving goods to the customers.
To do this, VeChain uses Radio Frequency Identification (RFID) tags and sensors to monitor critical data during the transportation of goods.
The information is then disseminated in real-time across the blockchain network.
This way, stakeholders and customers can easily monitor and ascertain the authenticity of a product or service.
With blockchain technology revolutionizing the way we interact with our environment, VeChain's business model fills a critical void in the logistics industry. Information dissemination is often compartmentalized, with necessary data often missing for key decisions. VeChain's innovation is a life-saver, and the growing relevance of blockchain may see the crypto project become a major concern in the next few years.
Price-wise, VET is up 11.17% despite the broader volatility crippling the crypto market. It trades at $0.06787, making it a bargain for investors.
3. Tron (TRX)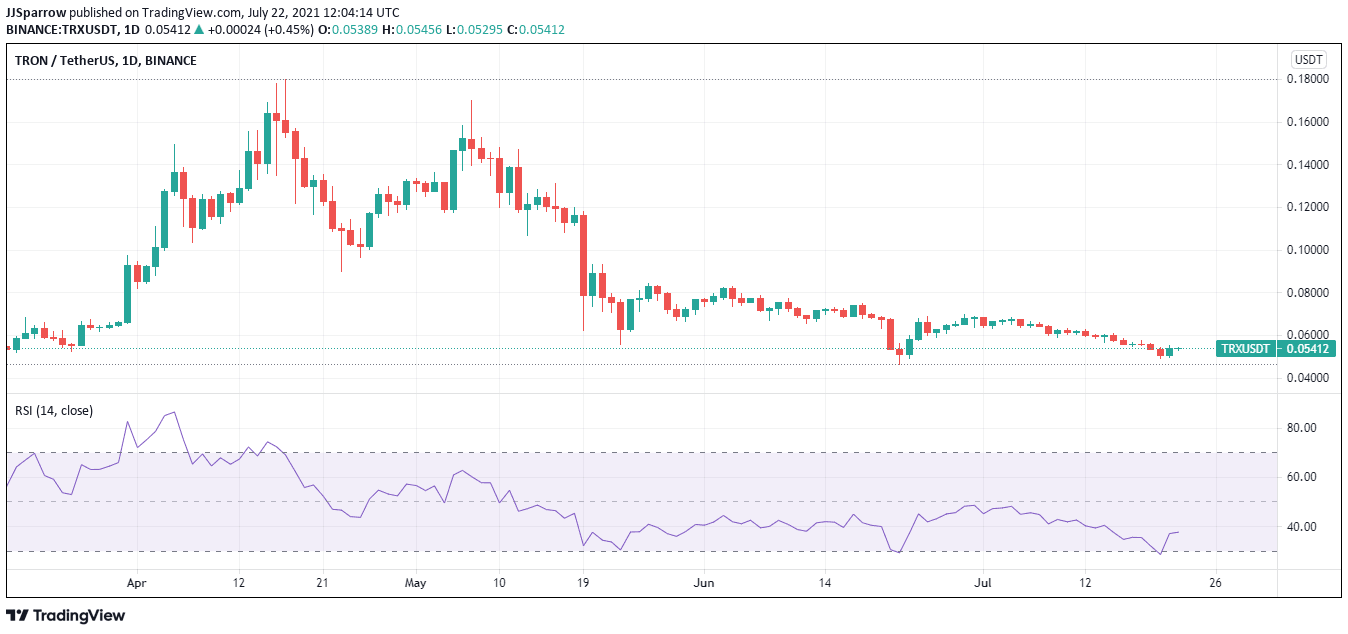 Tron's mission to decentralize the web is a very high goal, but the decentralized protocol is a growing concern in the booming space. With a value below a dollar and a clear roadmap, Tron is one of the best cryptocurrency to buy for lower risk returns.
Founded by serial entrepreneur Justin Sun in 2017 after launching the Tron Foundation, Tron aims to make the internet fit for daily use. To this end, the crypto protocol enables the decentralized transmission of audio and video content through its peer-to-peer (P2P) file-sharing protocol, BitTorrent. It also supports NFTs.
Like popular decentralized applications (dapps) platform Ethereum, Tron enables the building and utilizing complex protocols through smart contracts. However, the Tron network is faster, according to the development team. It currently processes transactions 2,000 faster than Ethereum's 25 transactions per second (TPS) speed quota.
It uses a delegated proof-of-stake (dPoS) consensus algorithm to secure its network, and validators can earn its native token TRX as rewards for adding blocks to the blockchain.
Tron is a fast-rising star in the crypto space and is gradually attracting investors' attention. Nonetheless, its value proposition and price are disparate, and you can get TRX for a bargain. At press time, TRX is trading at $0.05444 and is up 3.04%.
4. Tezos (XTZ)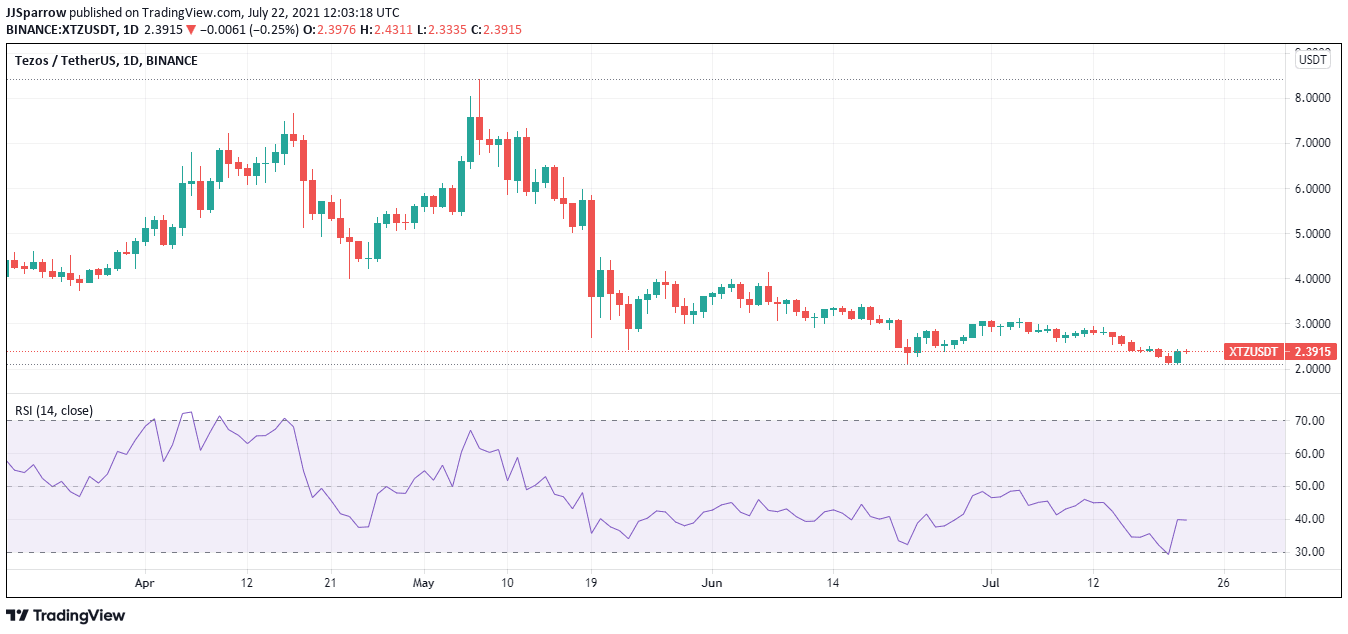 Tezos is an exciting crypto project, and its low price makes it one of the best cryptocurrency to buy for lower risk returns. The Tezos network uses smart contracts like most other decentralized applications (dapps) platforms.
However, it aims to do this better than anyone of the others.
The Tezos blockchain was made to be a more advanced blockchain protocol. The network can evolve and improve without undergoing a hard fork.
The blockchain platform says it's "secure, upgradable, and built to last," and its smart contracts are focused on high-level use cases.
Initially conceptualized in a whitepaper authored by founder Arthur Breitman under a pseudonym, the Tezos blockchain says it is futureproofed and will embrace any major blockchain innovation that comes up in the future.
Just like its history, XTZ has had a turbulent ride since its launch.
Coming into the year at $1.9987, XTZ skyrocketed to an astronomical $7.13 on Apr. 16 before dipping.
It retested this price action and surged to a record $7.5 on May 6 before slumping 50% with the broader crypto market.
Meanwhile, XTZ is slowly welcoming back the bulls, is up 6.76%, and trades at $2.4113. Its RSI is at 39.84.
5. Ripple (XRP)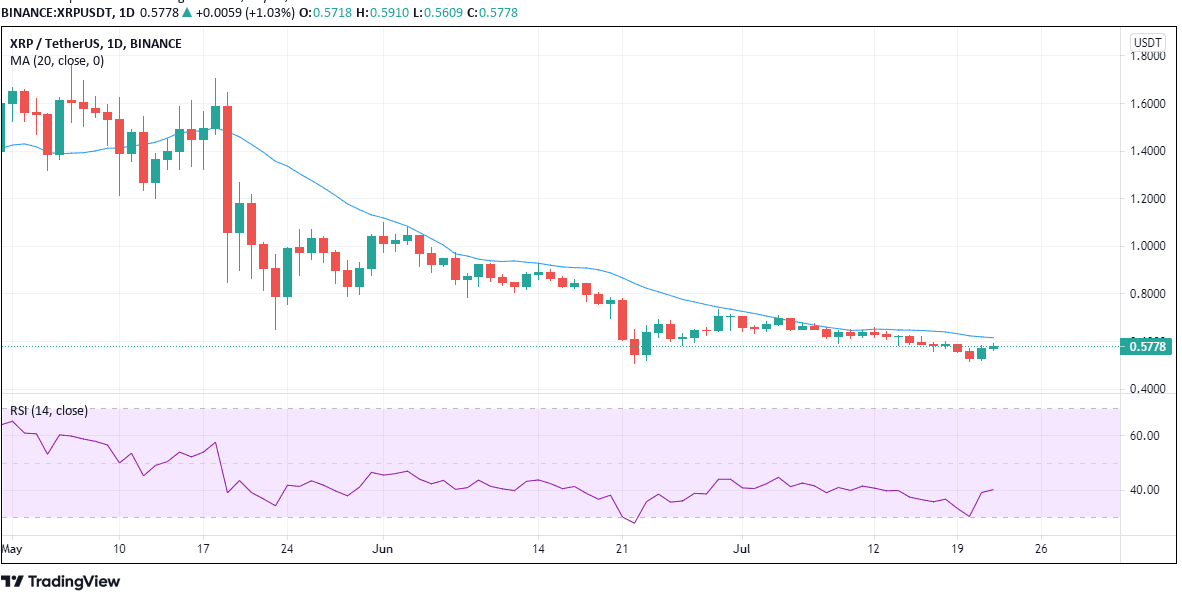 XRP is one of the best cryptocurrency to buy for lower risk returns, given its use case for institutional clients. It is the digital currency of the cross-border payments platform RippleNet, owned by San Francisco-based blockchain firm Ripple Labs.
Right from the onset, XRP was designed to take away the power of cross-border payment giants like SWIFT by offering a more cost-effective means of businesses transferring value to their business partners overseas.
It is also much faster, and its reliance on blockchain technology makes it one of a growing number of companies to look out for in the future.
XRP uses an innovative Ripple Protocol Consensus Algorithm (RPCA) and a Federated Consensus system to process data in 2 to 3 seconds.
It has also signed partnerships with major banking institutions in much of Europe and Asia. Ripple is also gradually expanding the use case of the XRP token to central bank digital currencies (CBDCs) and non-fungible tokens (NFTs).
However, the digital asset has not enjoyed this remarkable success in its home country and is currently facing charges from the US Securities and Exchange Commission (SEC) for selling unregulated securities.
Despite this, the XRP token holds its own and is up 5.89% in the last 24 hours to $0.5778.
Capital at risk