5 Top Crypto To Buy This Week [BTC, ETH, LINK, SOL, UNI,] August 2021 Week 1
The crypto market has gathered much interest in the last year, as more investors search for the top crypto to buy. The main attraction has been the massive returns crypto assets have posted compared to more traditional investment vehicles. This article highlights five of the best cryptos to buy for growth potential given their adoption and value proposition.
1. Bitcoin (BTC)
The star of the show, Bitcoin is our number one pick for the top crypto to buy this August. This is because the premier digital asset has gone on to set and break records weekly. Bitcoin enables the trustless transfer of value in a decentralized manner without requiring any central authority to sanction transactions between two parties.
With institutional investors seeing the value Bitcoin presents, many have termed it the digital equivalent of gold, given its deflationary tendencies. The crypto asset came into the limelight when it surged to $20k in the crypto boom of 2017. It continued its pace-setting trend in 2020 after climbing the $20,000 mark after a two-year hiatus.
This year has seen Bitcoin break its previous record. Bitcoin shot to an eye-popping $65,000 in April. This saw it singlehandedly lift the crypto market to its first trillion-dollar valuation. It propelled the crypto space into more limelight when the nascent sector plateaued at $2.5 trillion in mid-May.
However, it has not been a smooth sail for the virtual currency. In mid-May, the bears seized the market following reports of a Chinese crackdown on Bitcoin mining and Tesla refusing BTC payments. These led to Bitcoin price falling by 50%. The lowest point came into July when it dipped to a three-month low of $29,600 before rallying to $42,000 towards the end.
At press time, BTC is trading at $39,200 and is down 7.58% in the last 24 hours. However, it is up 1.59% from the previous week. Despite its struggles, Bitcoin is still the most popular cryptocurrency in the fast-growing space.
2. Ethereum (Ether)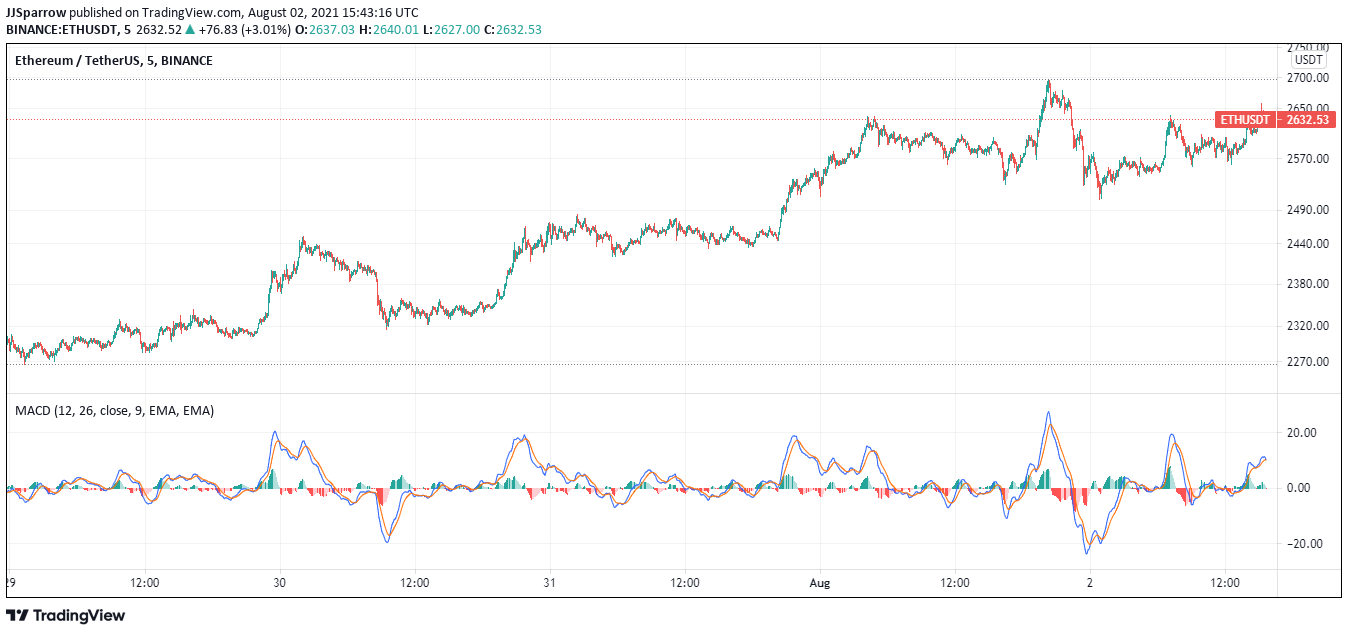 The Ethereum network is the direct predecessor of Bitcoin in pioneering groundbreaking blockchain technology. Launched in 2015, Ethereum enables decentralized applications (dApps) on its blockchain. This has led to the growth of decentralized finance (DeFi) which seeks to replace the traditional finance system.
Ethereum's growing importance in the DeFi sub-sector makes it one of the top crypto to buy this week. DeFi started gaining prominence less than a year ago, but it has since grown 58% from $20 billion to $71.12 billion, according to DeFi Pulse.
The Ethereum network is the go-to platform for DeFi, and most leading dapps platforms are situated on its blockchain. So far, over 200 top dapps call it home.
With DeFi expected to become an accepted norm in the years ahead, Ethereum's position is expected to continue growing.
Price-wise, Ethereum's Ether (ETH) has also enjoyed a remarkable year. It has surged more than 500% to date and climbed to a record $4,350 in mid-April. Even though its value has been halved with other crypto assets, Ether is still one of the top five most valuable cryptocurrencies with a 19% control of the market.
Currently, Ether is trading at $2,589.80, up 0.60% on the daily chart. It has come a long way in the last week and is up 10.71%. The digital asset is trading above the 20-day moving average (MA) at $2,162.53, indicating a bullish trend. Its relative strength index (RSI) is also confirming this and is presently at 70.90, meaning it is in the oversold region.
3. Chainlink (LINK)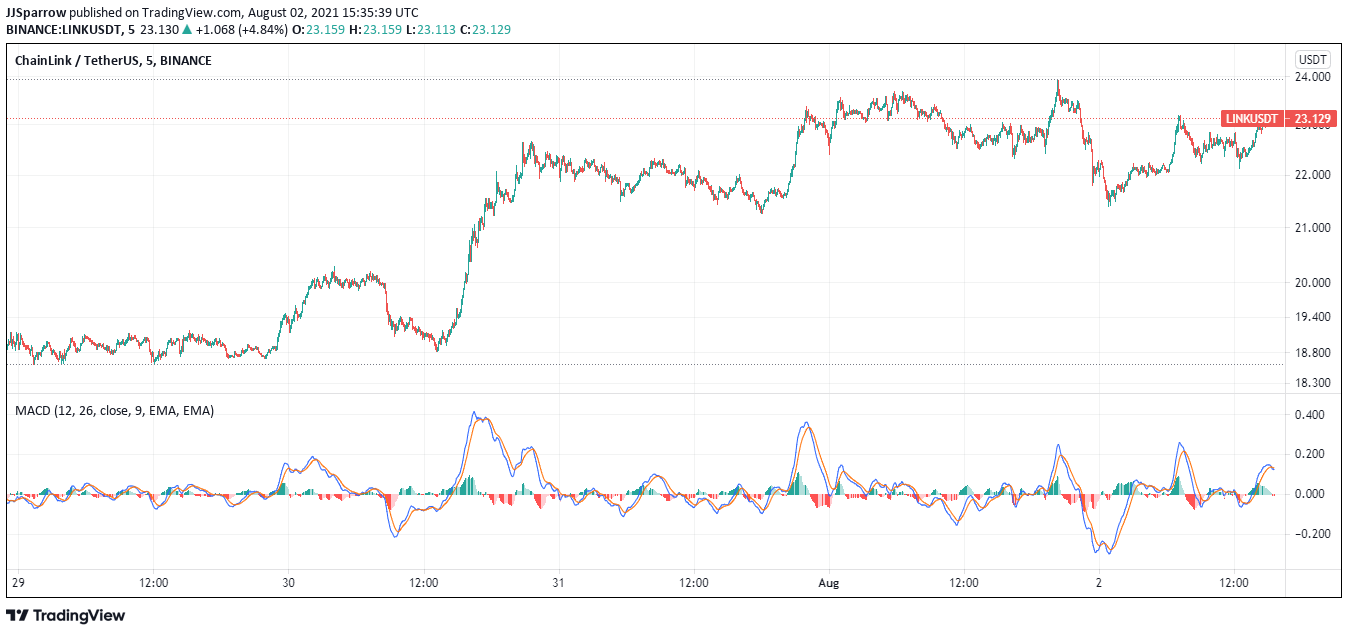 Chainlink is known for a singular purpose; to enable blockchain platforms to get data. Founded in 2017, Chainlink is an abstraction layer that helps smart contracts gather data through its decentralized oracle network. This way, blockchains can interact with external data feeds, events, and payment methods and provide off-chain information smart contracts use to enforce digital agreements.
Run by an open-source community, Chainlink aims to solve the singular challenge blockchains face – they cannot make decisions due to the lack of complete data.
Chainlink is one of the most promising top crypto to buy blockchain data enablers and has attracted wide interest from several experts and entities in the booming blockchain ecosystem.
A decentralized ecosystem, Chainlink incentivizes users to become node operators by running critical data infrastructure needed for data gathering. DeFi-facing protocols like Aave, Synthetix, and Yearn Finance are known users of the oracle network.
Chainlink's native token LINK has also enjoyed a breath of fresh air and caught some tailwinds. It is on a bullish run at press time, trading above the 20-day MA of $17.489. 1 LINK goes for $22.513.
4. Solana (SOL)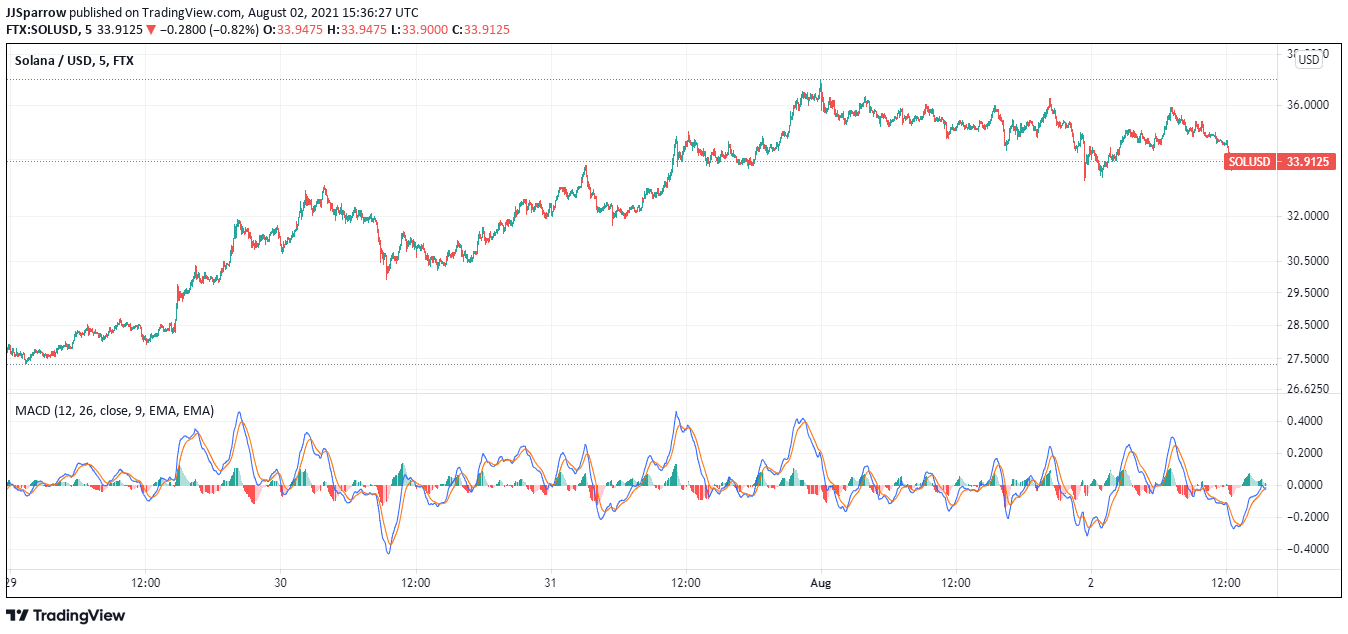 Known in the crypto circles as the 'Ethereum killer,' Solana is one of the top crypto to buy this month. Its selling point lies in its consensus algorithm.
Instead of going the conventional way of using a proof-of-stake (PoS) protocol, Solana combines an innovative proof-of-history (PoH) timing mechanism that makes it unique from all the other blockchain platforms. The blockchain platform also enables the development of DeFi solutions on its network like Ethereum.
This unique take makes the Solana blockchain process 50 – 65,000 transactions per second (TPS). This also cuts costs for users, and Solana has gradually begun to attract more crypto platforms due to its faster transaction output.
The Solana network is also becoming a haven for non-fungible tokens (NFTs), digital collectibles stored on the blockchain. Solana's SOL token has become one of the best-performing crypto tokens this year. It reached a record $58.90 on May 18 before dipping.
Now, it is picking up steam once again and is trading at $33.698, continuing a week-long bullish streak.
The Solana blockchain is now one of the hottest dapps platforms in the crypto space. Ethereum-based protocols like Power Ledger and Neon Labs have since migrated to the network.
5. UniSwap (UNI)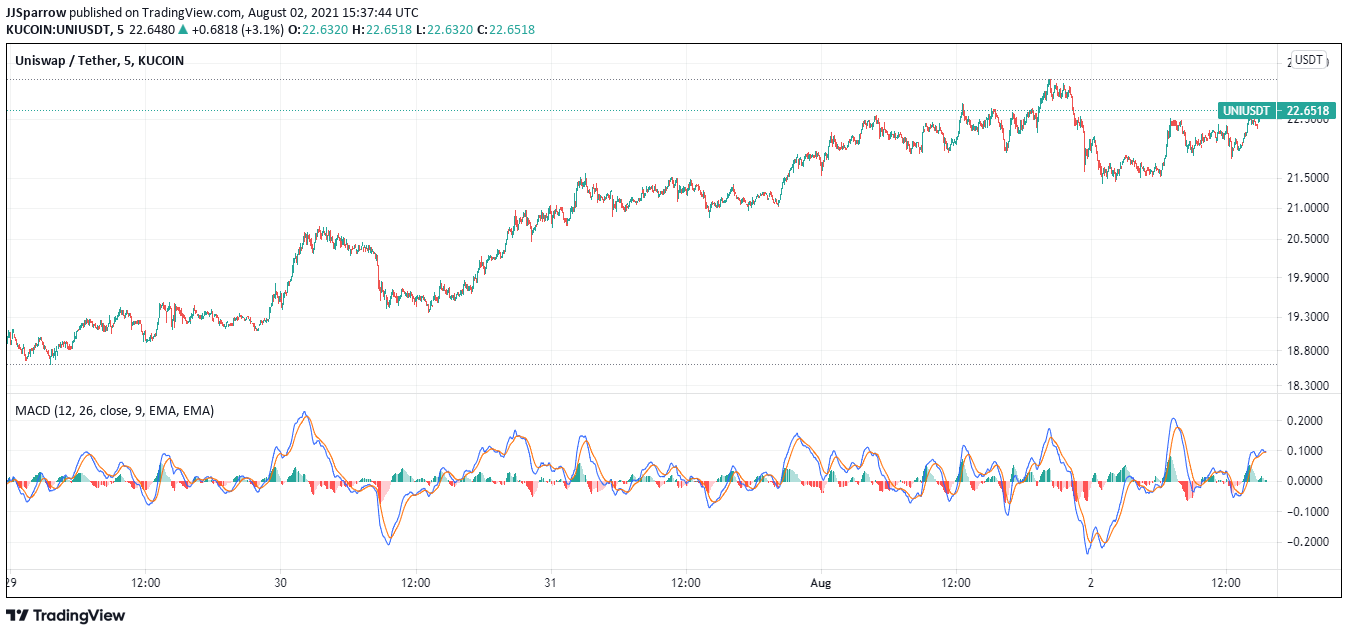 UniSwap is a top automated market maker (AMM) and is one of the top crypto to buy, given its growing relevance in the DeFi sub-sector. Based on the Ethereum network, UniSwap enables users to trade tokenized assets easily and with the best prices in the market.
Given that it is a decentralized crypto exchange, UniSwap appeals to several users because no registration or know-your-customer (KYC) protocol is observed. It is a top destination for users and processes nothing less than $1 billion in daily trading volume.
It enables the seamless swapping of several ERC-20 tokens and allows users to provide liquidity with its UNI token.
UNI has enjoyed a stellar year, rising to an all-time high (ATH) of $44.92 on May 3. At press time, UNI is trading at $22.225 and is down 0.75%. However, it is up 14.13% in the last seven days.
The UniSwap platform has recently launched its v.3 platform, which introduces concentrated liquidity and multiple fee structures.