5 Top Cryptocurrency To Buy This Week July 2021 Week 4
The crypto market has made massive gains over the last week. The market cap which was at $1.37 trillion only last week has grown to $1.54 trillion. Following off from the
2. Ethereum (ETH)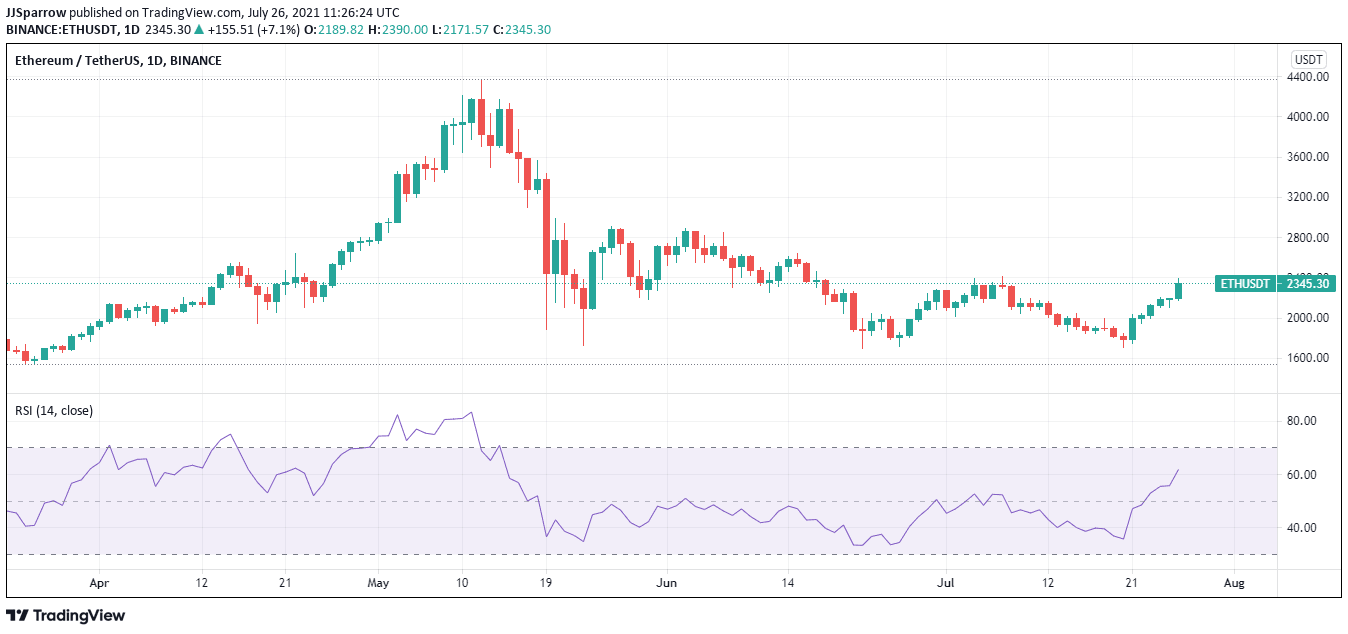 Another top cryptocurrency to buy this week is Ethereum. The second-largest cryptocurrency is currently trading at $2,321 and is up by 6.58% in the last 24 hours.
Ethereum also grew tremendously this year and even hit an all-time high price of $4,362 in May. The asset price, which started the month trading at $2,150, dropped to $1,911 on July 15. Like many cryptocurrencies, Ethereum also dropped in value.
However, things seem to be looking good for the crypto, which is on an uptrend. Its 200-day Moving Average (MA) is at $2,345 on the daily chart showing that the coin is poised for more growth. The Relative Strength Index (RSI) is in a neutral zone at 53.75.
Ethereum has been undergoing major developments on its blockchain as it continues to move to proof of stake. One of the top developers, Tim Beiko, recently announced that EIP 1559, one of the Ethereum Improvement Proposals (EIPs) in an upgrade called the London hard fork has been approved.
EIP 1559 has been tagged the most controversial because of its design of changing Ethereum's fee market. The blockchain will undergo the London hard fork next month.
3. Binance Coin (BNB)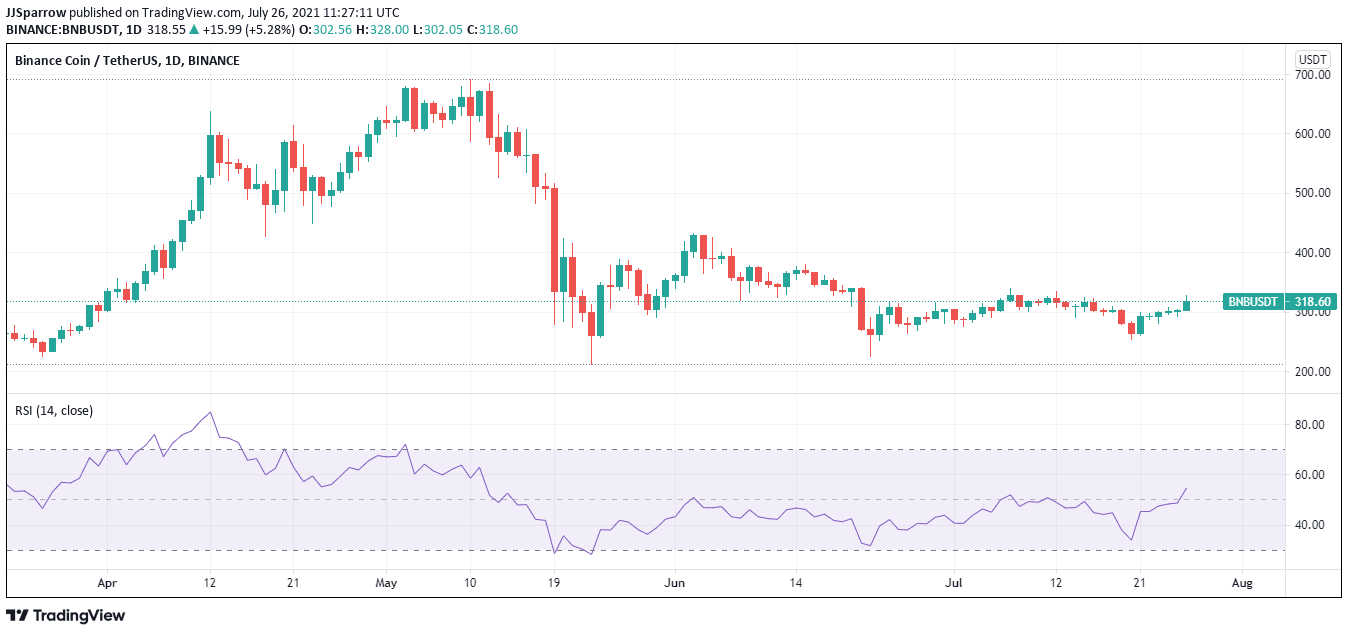 The Binance coin, also known as BNB, is the next top cryptocurrency to buy this week.
BNB started the month of July trading at $290.01. Although it climbed to $335 on July 7 it plunged soon after to $316.48. As of July 20, BNB had dropped to $266.32. However, BNB is rapidly climbing back up. It increased by 5.49% in the last 24 hours and is currently trading at $317.10.
The Binance exchange has been stuck in regulatory issues during the last few weeks, and this may have taken a toll on BNB's price in the past. However, recent revelations made by the CEO and founder of Binance, Changpeng "CZ" Zhao may have jolted BNB back up.
In an online event called REDeFiNE Tomorrow held recently, Zhao said that its US arm, Binance US may list shares through an initial public offering in the near future.
Zhao said that the company was already working with US regulators to set up structures to that effect. The CEO also revealed that the firm was looking to hire a new chief executive officer with a very strong regulatory background.
With the recent news, Binance Coin could potentially increase in value further. This is another reason it is a top cryptocurrency to buy this week. BNB's potential can be seen on the chart with the 200-day moving up from its present trading at $319.71. The Relative Strength Index (RSI) is also at 66.34.
4. Dogecoin (DOGE)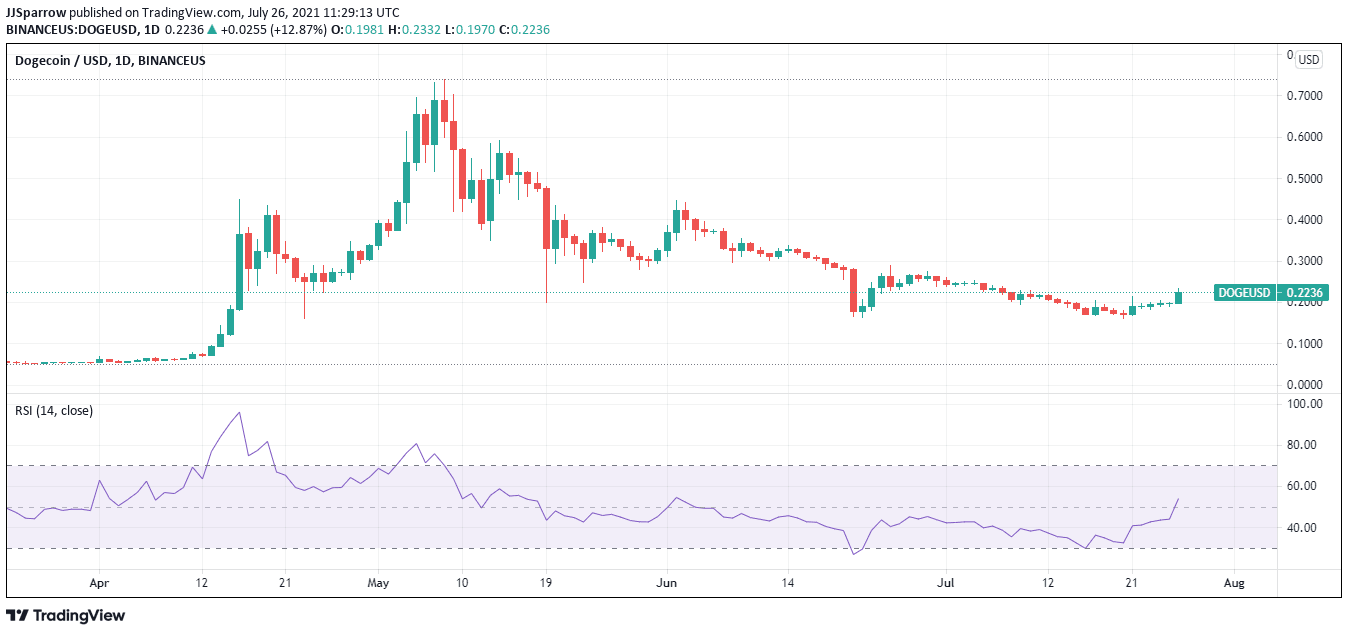 Going by its recent price movements, Dogecoin is another top currency to buy this week.
Dogecoin fell hard when it dipped to 0.178 on June 21, but it later got back up when it reached $0.264 on June 27. However, after that, the asset continued its downward trend for weeks, moving from $0.245 on July 1 to $0.172 on July 16.
DOGE has now recovered nicely, trading at $0.220 and is up by 11.88% in the last 24 hours. Dogecoin's price growth has often been influenced by what crypto celebrities publish online. One of such celebs is dogecoin influencer and Tesla CEO Elon Musk.
Musk recently shared a meme on Twitter, featuring a twist on one of the dialogues of the Matrix movie. In the tweet, Neo is seen asking if he "can make a lot of money with Dogecoin." To this, Morpheus, who was represented by a Shiba Inu head replied that "Dogecoin is money."
DOGE  surged by 20% after Musk's tweet.
On the technicals, The DOGE token is currently trading below its 20-day and 200-day moving average (MA) of $0.221 and $0.222, respectively. The asset's relative strength index (RSI) is at 47.43, meaning it is above the oversold region.
5. Amp (AMP)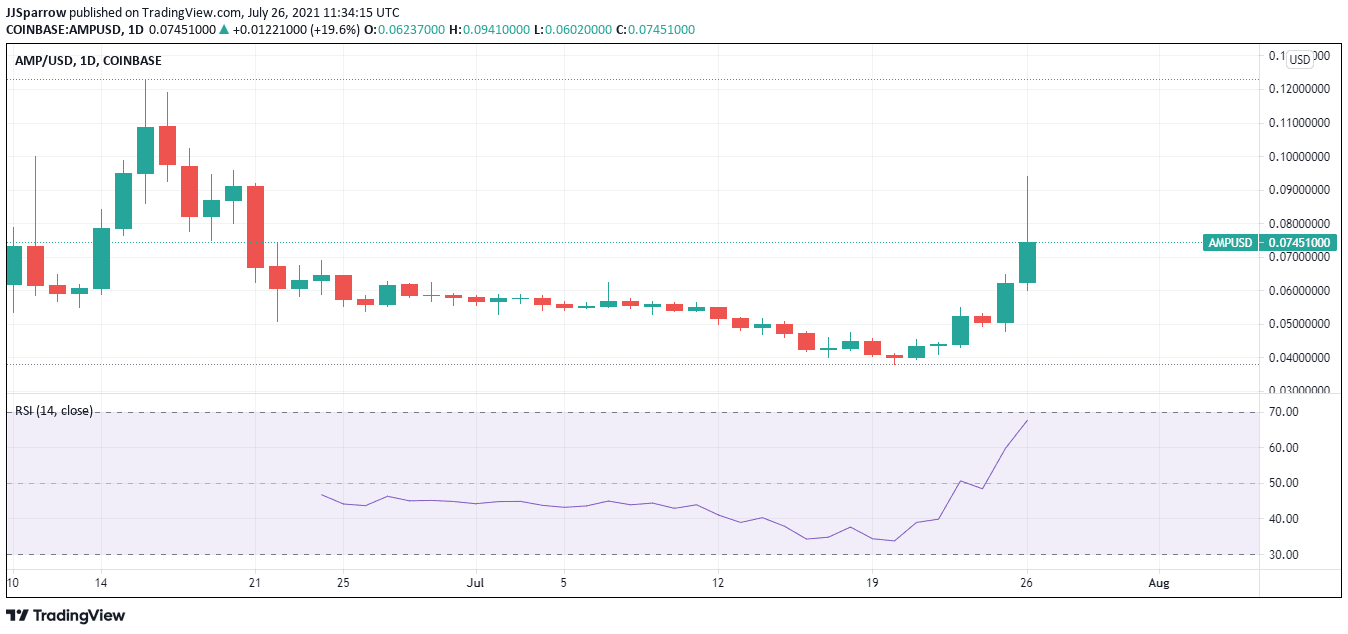 Last on our list of the top cryptocurrency to buy this week is AMP.
Amp hit its all-time high of $0.121 last month but dipped not long after to $0.0557.
This asset continued to drop and was trading at $0.042 on July 21. Amp is, however, having a nice comeback as it is slowly recovering from its previous downward movement.
Amp is currently trading at $0.0685 and is up by a high 36.61% in the last 24 hours.
Its 20-day and 200-day moving average (MA) shows a bear movement at $0.0677 and $0.0673. However, Amp's relative strength index (RSI) is nearing the overbought region at 67.57.
Capital at risk