These 5 Cryptocurrency Could See Price Boom This Weekend – Where To Buy
The cryptocurrency market has consolidated after a week of encouraging growth. Its total value stands at $1.62 trillion, having risen from $1.37 trillion a week ago. This represents a jump of just over 18%, with some of the biggest rising by an even bigger percentage. Bitcoin has appreciated by 22% in a week, while ethereum and XRP have surged by 18% and 25% respectively. With the market in a more confident mood, we've therefore put together a list of the 5 cryptocurrencies that could see a price boom this weekend. This mostly covers coins with big short-term potential, yet a few of these also have good long-term prospects.
These 5 Cryptocurrency Could See Price Boom This Weekend
1. Axie Infinity (AXS)
Axie Infinity (AXS) has easily been
AXS set its all-time high as recently as Tuesday, when it climbed to $52.17. It has fallen by 17% since then, having slid down a little each day. However, this stumble arguably sets it up for big jumps over the weekend, because its fundamentals remain just as strong.
Axie Infinity is an Ethereum-based video game in which players breed, battle and collect Pokémon-esque creatures called Axies. Players use AXS to vote on governance proposals, to pay for Axies and other in-game items in the game's marketplace, and for staking. In other words, demand for AXS will grow in parallel with demand for Axie Infinity itself.
And it does indeed seem that the popularity of Axie Infinity as a game is only increasing. On July 12, co-founder The Jiho tweeted that the game had almost passed 500,000 daily active users.
Just another normal week in Lunacia https://t.co/81OdNbRoJC$axs pic.twitter.com/k2OCkx0Jcv

— The Jiho (@Jihoz_Axie) July 12, 2021
This is impressive, but if you click the Google Docs spreadsheet shared in the above tweet, you'll see that user counts are still rising. As of July 26, the DAU count is now up to just over 800,000. This indicates a 700% spurt in users since the start of June.
As of writing, traders can buy AXS from Kraken, Binance, OKEx, Huobi, Kucoin and Poloniex, among other major exchanges.
2. Quant (QNT)
Quant (QNT) is the second-best performing coin over the past 30 and 90 days, after AXS. It has risen by 8% in the past 24 hours, and by 69% in the past week, at $125. It's also 66% up in the past month, as well as 1,400% up compared to one year ago. Most impressively, it set its all-time high of $142.21 only yesterday, indicating that it's gaining bullish momentum.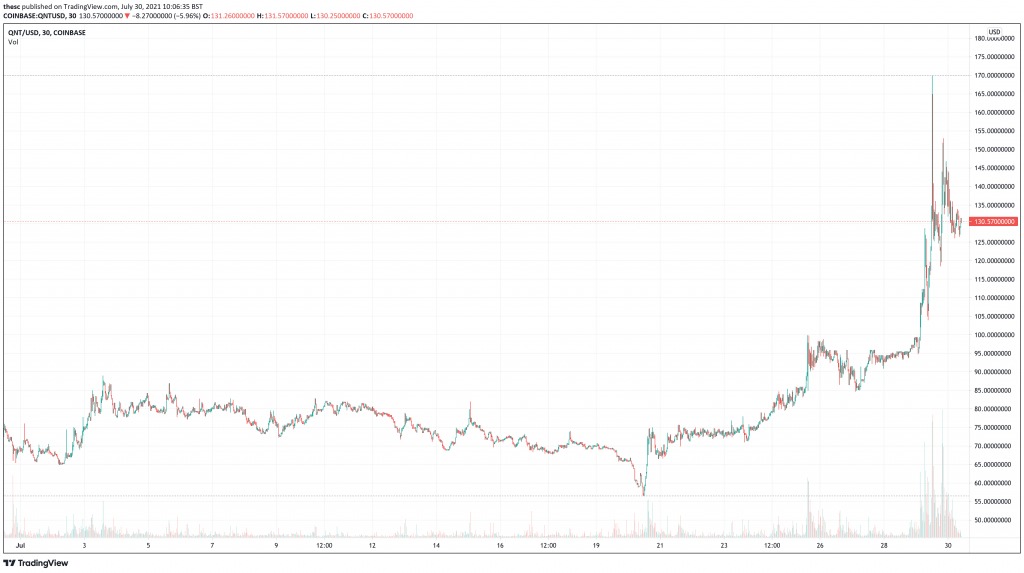 Quant is a platform for interoperability between blockchains. It offers the API-based Overledger OS, which can connect permissionless and permissioned blockchains through a single gateway.
QNT is the native utility token for this platform. Holders can stake it, in order to grant higher priority to certain transactions. They also use it to pay fees for the various transactions and processes performed by the Quant platform. And users of the platform have to pay an annual licensing fee in QNT.
Basically, QNT is going to grow in tandem with Quant. And judging by its recent price action, there's plenty of demand for it. That's why we've included it in our pick of 5 cryptocurrency could see price boom this weekend.
At the moment, traders can buy QNT from Binance, Coinbase, Bittrex, Uniswap and Bithumb.
3. Bitcoin (BTC)
Bitcoin (BTC) has been one of the best-performing major coins over the past week. At $38,600, it's up by just over 18% in the last seven days. It's also up by 21% in the past fortnight and by 7% in the past month.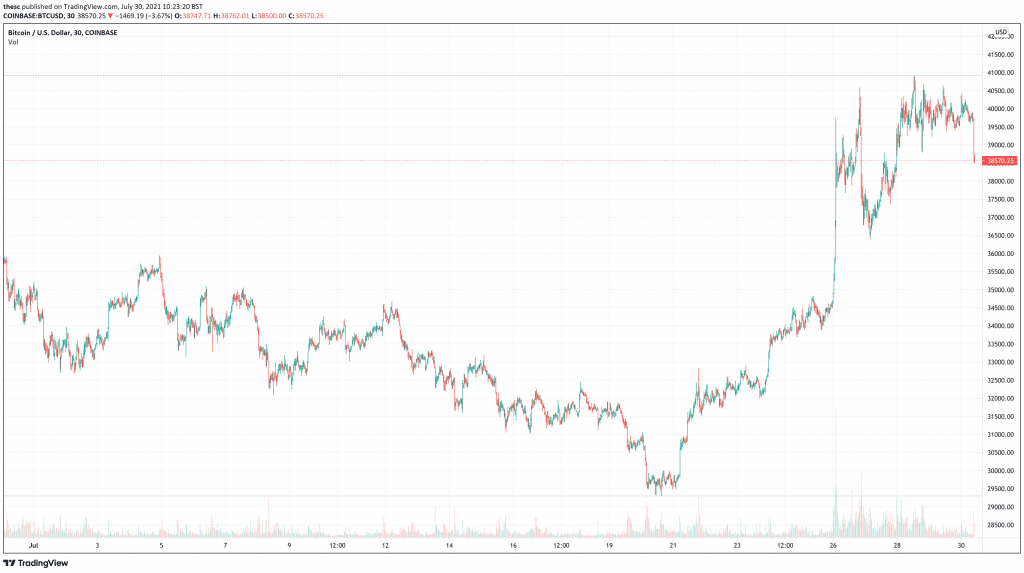 While bitcoin may lack the novelty of an AXS or QNT, it has just as much a chance of a weekend rally as any other coin. It generally leads market-wide movements, so if the market is going to have a good weekend, it's going to have a good weekend too.
More generally, BTC is underpriced compared to its potential long-term value. A recent survey of 42 cryptocurrency researchers and executives produced an average end-of-year price prediction of $66,284. If it's to reach this target, it needs to start rising again soon. And given that it continues to receive more investment interest than any other coin, this is quite probable.
The cryptocurrency has also witnessed a rise in active entities in recent days. This suggests interest in it is hotting up again.
#Bitcoin has seen a resurgence in Active Entities over the past week, rising by 30% from 250k to 325k active entities per day.

This degree of activity was sustained in July 2020 when $BTC prices were around $11.3k in Q2-2020.

Live Chart: https://t.co/jsxqAS9wdk pic.twitter.com/TWtrtLvneh

— glassnode (@glassnode) July 30, 2021
Traders can buy bitcoin pretty much everywhere.
4. Stellar (XLM)
Stellar (XLM) has been having ups and downs over the past few weeks. At $0.264168, it's down by 2% in the past 24 hours, but flat over the past week. More positively, it's up by 10% over the past 14 days.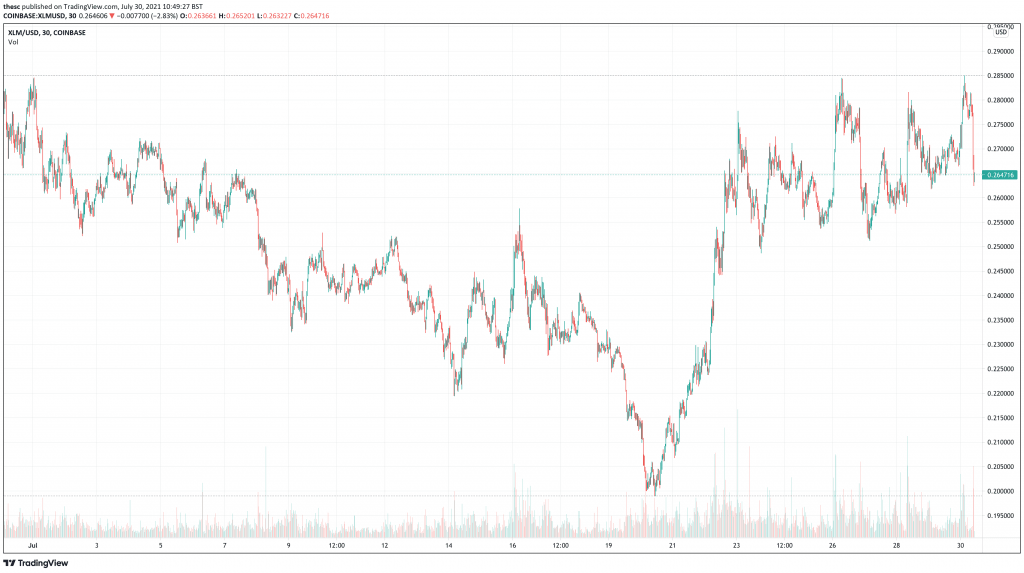 XLM hasn't impressed as much as other altcoins in recent weeks. That said, it jumped last Thursday after the Stellar Development Foundation approached MoneyGram with a takeover offer. If accepted, this would likely boost XLM even further. Not only that, but it would boost Stellar's longer term prospects as a platform dealing with cross-border payments. This is why it belongs to the list of 5 cryptocurrency could see price boom this weekend.
Traders can find XLM at most major exchanges, including eToro, Coinbase, Binance, Kraken and many others.
5. Dogecoin (DOGE)
Dogecoin (DOGE) isn't setting the market alight right now, but this is all the more reason to think it has one or two short-term bounces in store. Its price currently sits as $0.203366, which represents a 6% increase over the past week. It's also 11% up over the past 14 days, although 22% down over the last month. That said, it remains the best-performing top-50 coin over the past year, having posted a gain of over 6,300%.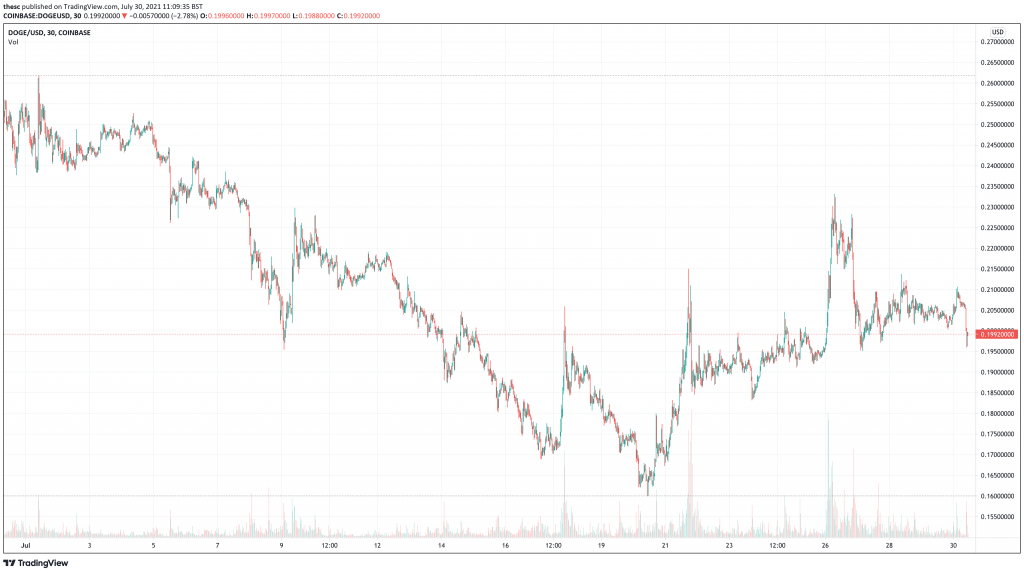 Given its performance over the last 12 months, it would be premature to count it out for other big bounces. This is particularly the case when it still has such a strong community, which is often prepared to collectively boost its price.
2.1 mln subscribers in total pic.twitter.com/nDFU5XRW29

— skew (@skewdotcom) June 23, 2021
Of course, it's hard to say whether DOGE has any real long-term appeal. That said, its developers are working to upgrade its software and increase its capabilities. They're planning on introducing two major updates. One will implement SegWit and CSV, which is important for layer-two platforms (e.g. Lightning Network). And the other will reduce fees, making Dogecoin more usable as a means of payment.
For an overview of work currently being done towards the next major release of Dogecoin Core, see the project board at https://t.co/P9R0GUh8SL

— Dogecoin Developers (@dogecoin_devs) May 24, 2021
DOGE can be bought pretty much anywhere.
67% of retail investor accounts lose money when trading CFDs with this provider