VISA Sees $1 Billion of Crypto Card Spend This Year, ETH, DOGE, AXS, Jul. 13
VISA
Payments giant VISA has reported that over $1 billion worth of cryptocurrency has already been spent in 2021 by global consumers using crypto-linked Visa cards.
Visa Chief Financial Officer Vasant Prabhu told CNBC:
We are doing a lot to create an ecosystem that makes cryptocurrency more usable and more like any other currency.

People are exploring ways in which they can use cryptocurrencies for things they would use normal currencies for.
Visa has said that crypto cards and other digital payment systems, could disrupt the $18 trillion currently spent with cash and checks globally every year.
Cryptocurrency-linked VISA cards can now be spent at more than 70 million merchants globally, which is helping to fuel the rapid rise in payments. 
"We see a lot of volume on our [network] of people buying cryptocurrencies at these various regulated exchanges and as far as we can see that trend continues," Prabhu added.
The VISA spokesperson added that the company doesn't hold any cryptocurrencies on the company balance sheet as they do not require it for their business operations.
ETH
Ethereum took a blow from the news that Australian energy trading company Power Ledger (POWR) was dropping the Ethereum network for Solana to support its own blockchain, the Powerledger Energy Blockchain. 
In a press release, Power Ledger said that the Solana network is much faster and supports a much higher transaction throughput.
The news is slightly surprising as the decision comes while the Ethereum blockchain undergoes the latest upgrades to solve the problems noted. The Power Ledger blockchain offers a platform for businesses to buy and sell renewable energy more efficiently. 
Power Ledger stated that Solana's ability to achieve scalability through POH was the draw with a block time of 400 milliseconds and a throughput of over 50,000 transactions per second.
The company stated that Solana's Proof of Stake network was more attractive than the Proof of Stake used by ETH, however, this is another goal of the coming upgrade.
"POS will occur on our Powerledger Energy Blockchain but will be linked to our existing POWR (ERC20) token which remains on Ethereum mainnet, with both the stake and rewards convertible and payable in existing POWR tokens," said Power Ledger co-founder John Bulich. 
The price of Ethereum is testing support near the $2,500 level and further bearishness in the coin has targets at $1,750 and $1,500.
DOGE
Dogecoin was lower on the week by almost 10% as the director of digital assets at VanEck asset manager, Gabor Gurbacs, took aim at Elon Musk's recent tweet, where he stated DOGE will become superior to the two largest cryptocurrencies- Bitcoin and Ethereum.
Gurbacs has reminded crypto investors that an issue with DOGE may prevent it from outperforming Bitcoin and Ethereum.
Blockstream's Samson Mow also joined in with a similar comment as they highlighted that the meme coin is merge-mined with Litecoin. DOGE switched to an auxiliary proof of work (Auxiliary PoW) consensus protocol in 2014 and became mined together with Litecoin.
It should also be noted that Dogecoin initially came into existence from a Litecoin hard fork. Litecoin's creator Charlie Lee suggested the merge mining to save DOGE.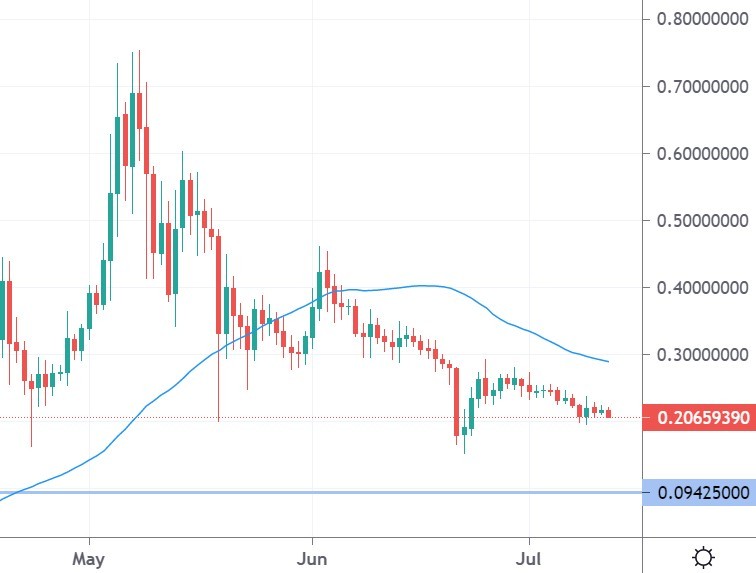 The price of DOGE was around 10% lower on the week and the coin has slipped back towards the $0.20 price level. The coin has larger support at the $0.09 level, which was a previous high back in February of this year, before the coin broke out to highs at $0.80.
AXS
Axie Infinity's AXS token was the best performing coin of the week with a gain of over 100%.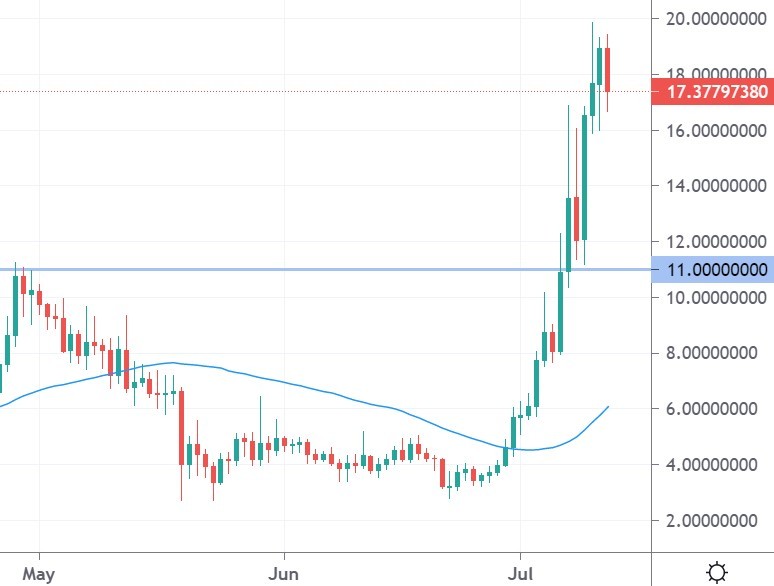 The move higher in AXS sees the project valued at a market cap of $1 billion and ranks at number 71 in the list of tokens. AXS has soared from a price of $3.25 in late June, to trade at $17.40 today.
Axie's price is being boosted by growing interest in its Ethereum-based digital marketplace. Axie Infinity user growth has exploded higher with the price of Small Love Potion (SLP), which is a token in the AXS ecosystem, which is minted through gameplay as a reward to users.
Recent data from Delphi Digital highlighted that interest in the Axie ecosystem was growing at an "exponential rate since the launch of Ronin," with the biggest markets being in the Phillippines, Venezuela, Cuba, Qatar, and the UAE.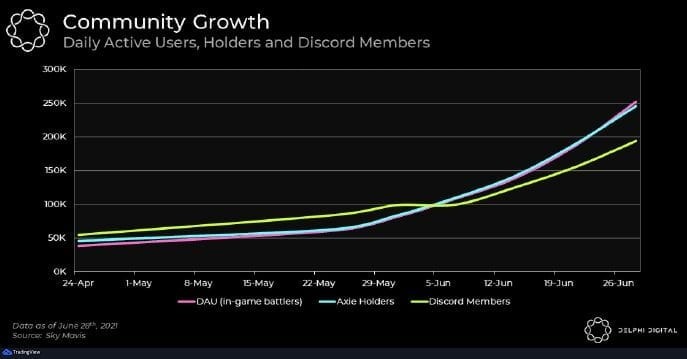 Daily Average Users has also grown from 50k users per day to 250k, according to the data from Delphi Digital.