5 Best Cryptocurrency To Buy At Cheap Prices July 2021 Week 4
The cryptocurrency market has recoiled slightly after its strong rally yesterday. Its total value fell to $1.46 trillion earlier today, having stood at $1.58 trillion the day before. This marks a decline of around 7.5%, although the market has partly recovered since the morning. Some of the biggest altcoins have shrunk by more than 4% in the past 24 hours. However, while
While $38,000 is obviously a considerable lump of money, BTC is still 40% below its record high of $64,804. This arguably makes it one of the 5 best cryptocurrency to buy at cheap prices. That said, $38,000 may seem even cheaper still, if you think BTC has the potential the rise well above $64,000.
In fact, numerous analysts and industry participants do believe bitcoin is going higher. A recent survey of 42 cryptocurrency researchers and executives resulted in an average end-of-year price prediction of $66,284. More importantly, the average prediction for the end of 2025 was $318,417. Such a figure makes $38,000 look incredibly cheap.
At the same time, models also indicate a high price for bitcoin in the not-too distant future. Bitcoin's 11-year exponential trend forecasts a price of $100,000 by the end of the year. Meanwhile, the stock-to-flow model suggests a price well over $100,000 by 2022. Its biggest proponent — the pseudonymous analyst PlanB — claims that it's currently supported by on-chain data.
Just to confirm: both my S2F(X) model and on-chain signal point towards a second run of this bull market pic.twitter.com/d8NB4jNoTL

— PlanB (@100trillionUSD) June 15, 2021
Cardano (ADA)
Cardano (ADA) rose with the rest of the market yesterday, climbing as high as $1.36. However, it has fallen more steeply than some of the other major coins. It has dwindled by nearly 5% in the past 24 hours, moving down to $1.27. Still, it's up by 12% in the past week, and by over 700% in last 12 months.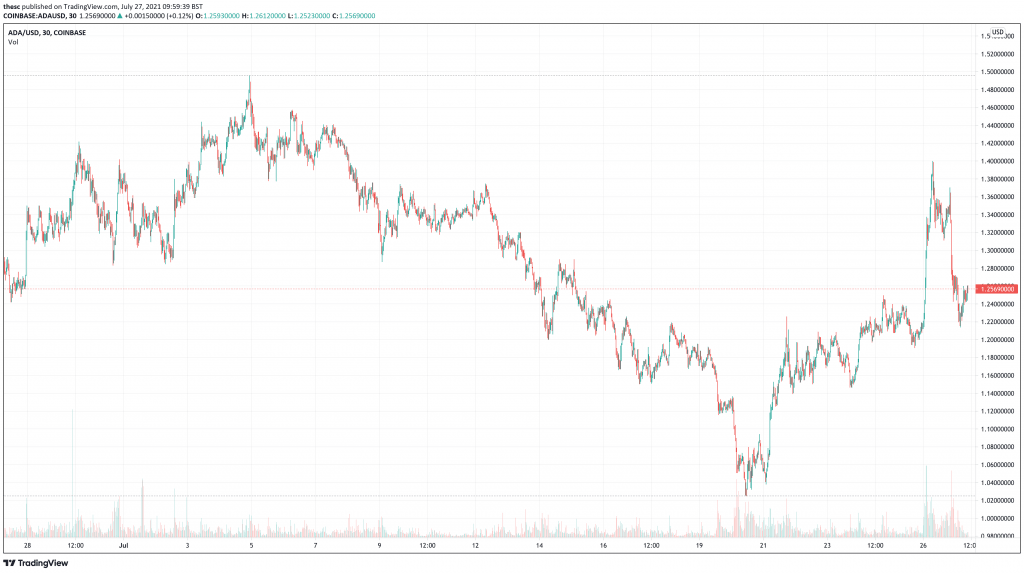 Compared to the likes of BTC and ETH, ADA's performance over the past week has been a tad disappointing. Nevertheless, this can be flipped on its head and used as indication that it's due for a larger rise soon. And at only $1.27 it certainly is cheap right now.
Indeed, Cardano appears to have a bright future ahead of it. It's due to introduce its Alonzo upgrade next month. This will bring smart contracts to its platform, which will thereby be able to host a wider range of dApps. In effect, the upgrade will turn the blockchain into a fully fledged rival to Ethereum. Founder Charles Hoskinson has previously boasted that over 100 companies are ready to launch on Cardano once the platform matures. If true, this could send ADA rising healthily.
NEW VIDEO: On Wednesday, we successfully hardforked into the #AlonzoWhite testnet phase. @timbharrison caught up on the day of the hardfork with some of the team working on the program. Here's our mid-month update on the progress so far #Cardano https://t.co/kh8qCeSAd1

— Input Output (@InputOutputHK) July 16, 2021
Polkadot (DOT)
Polkadot (DOT) currently stands at $14.06. This represents a 22% rise over the past week, although DOT has climbed down by 4.5% in the past day. It's also down 70% compared to its ATH of $49.35, set on May 15.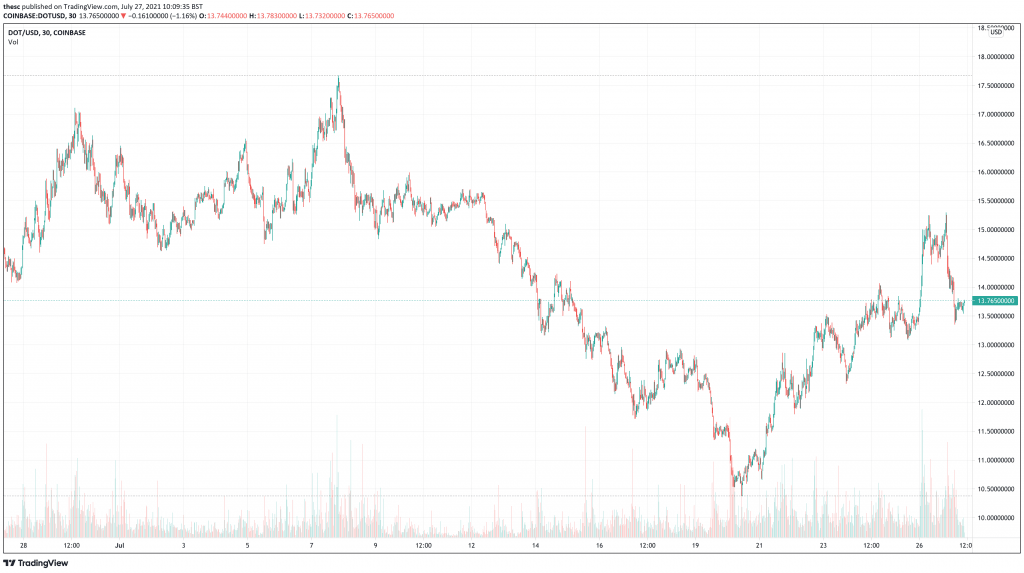 70% is a big drop. But again, a bigger-than-average drop arguably prepares the way for a bigger-than-average rise. Polkadot's introduction of parachains helps strengthen this suspicion. Parachains are effectively side/sub-chains which connect to the main Polkadot relay chain. Each parachain is intended to host a dApp, meaning that once parachains launch on Polkadot it will become much busier.
Polkadot's parachains launch is expected to begin once two things have happened:
1. A full external audit is completed.
2. @kusamanetwork executes at least one successful auction involving crowdloans and hosting at least one functional parachain.
Read more from @gavofyork: https://t.co/m03AFJueXR

— Polkadot (@Polkadot) May 17, 2021
Not only that, but DOT — which is needed to bond parachains to the relay chain (and for staking) — will also become more in-demand. In time, this will exert considerable upwards pressure on its price. This is why DOT is currently one of the 5 best cryptocurrency to buy at cheap prices right now.
Uniswap (UNI)
Uniswap (UNI) is another highly promising altcoin that's pretty cheap right now. At just over $18.50, it's up by 18% in the past week, although it is down by 5.5% in the past 24 hours. It's also up by 16% in the past month.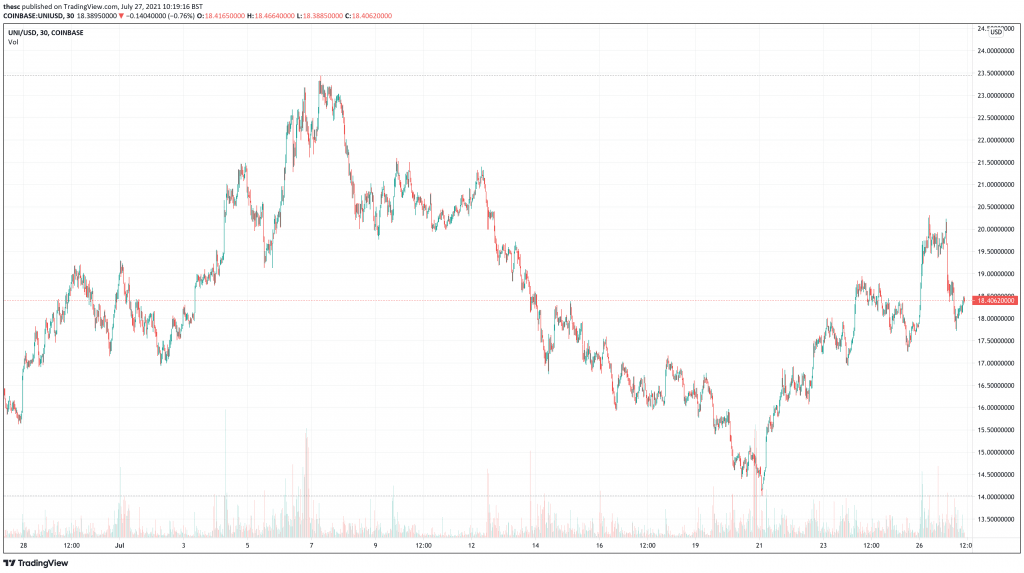 As a decentralised exchange, Uniswap may potentially enjoy bigger growth in the future than centralised exchanges, which are increasingly coming under regulatory scrutiny. At the same time, Uniswap itself has enjoyed a number of important updates and developments in recent weeks, all of which will help it grow.
It launched Version 3 of its exchange in May, while it launched liquidity mining for v3 at the beginning of July. This lets users earn rewards for staking UNI and other tokens.
1/

We're very excited to share that the Uniswap v3 liquidity mining contracts have been deployed to Ethereum mainnet and all testnets.

Developers can start using these contracts today! https://t.co/ygMkq3OiTU

— Uniswap Labs (@Uniswap) July 1, 2021
On top of this, it also launched on the Optimistic Ethereum mainnet, a layer-two scaling solution that will help it handle a much greater quantity of transactions. As the DeFi market continues to grow, this should help Uniswap remain at the forefront of such growth.
1/

We are thrilled to announce the Alpha launch of Uniswap v3 on Optimistic Ethereum (OΞ) mainnet in partnership w/ @OptimismPBC!

This is a critical step in scaling DeFi applications and delivering user experience that rivals traditional web apps.https://t.co/Of3QmubFth

— Uniswap Labs (@Uniswap) July 13, 2021
Axie Infinity (AXS)
Axie Infinity (AXS) has been something of an outlier in recent weeks. Despite much of the market experiencing a lack of confidence, it repeatedly broke its ATH at numerous points in July. As of writing, its current record high is $49.20. However, it has risen by 32% in the past 24 hours, with its price currently standing at $48.63.
While $48 remains pretty cheap, there's a very good chance that AXS will break (and possible re-break) its ATH in the very near future. As a decentralised game, it's becoming increasingly popular. It has now touched 500,000 daily active users, having stood at only 350,000 at the beginning of July and 100,000 at the beginning of 100,000.
Just another normal week in Lunacia https://t.co/81OdNbRoJC$axs pic.twitter.com/k2OCkx0Jcv

— The Jiho (@Jihoz_Axie) July 12, 2021
Assuming this growth continues, AXS is likely to rise considerably in price. It also benefits from being part of a growing sector of decentralised, NFT-based video games. In recent months, the sector has seen the emergence of titles such as Gods Unchained, Lost Relics and Splinterlands. In fact, Splinterlands has just announced the private sale of its soon-to-be-released Splintershards (SPS) token, raising $3.6 million.
This indicates just how much interest there currently is in decentralised games. Yet Axie Infinity remains the biggest of the lot, boasting revenue for July of over $100 million. This is why it's one of the 5 best cryptocurrency to buy at cheap prices.
Boom. @AxieInfinity just crossed $100M in July revenue.

It's July 23rd.
Axie's made $21M since I wrote about it on Monday.

pic.twitter.com/l9kpJ8XEhd

— Packy McCormick (@packyM) July 23, 2021
Capital at risk