5 Best Gaming Crypto Coins For High Returns July 2021 Week 4
The cryptocurrency market continues its steady recovery. Having dropped off a little yesterday, its total value has since risen by nearly 6% in 24 hours. The cap of the entire market now stands at $1.59 trillion, with bitcoin being the biggest gainer among major coins. However, gaming cryptocurrencies are also playing their part on the rise, with Splinterlands' SPS token gaining by 230% in a single day. Accordingly, we've put together our pick of the 5 best gaming crypto coins for high returns.
5 Best Gaming Crypto Coins For High Returns
1. Axie Infinity (AXS)
It's probably not long before AXS becomes a top-20 cryptocurrency. At $46.73, it has risen by 15% in 24 hours and by just over 200% in a week. It also broken its all-time high yet again yesterday, topping $52 before coming back down to its current level. It's also up by 125% in the past fortnight and by over 1,100% in the past 30 days.
There's little doubt that AXS' rise over the past few weeks has been pretty spectacular. Nonetheless, there's a good chance this is only the beginning.
Most impressively, daily active users of the Axie Infinity game are rising exponentially. At the beginning of June, it boasted around 100,000 DAUs. However, by the start of July it had raced ahead to 350,000 users, and a week later it reached half a million.
Just another normal week in Lunacia https://t.co/81OdNbRoJC$axs pic.twitter.com/k2OCkx0Jcv

— The Jiho (@Jihoz_Axie) July 12, 2021
At this rate, Axie will pass one million users at some point in August. If it does, the price of AXS will likely have reached new record highs by then.
2. Splinterlands (SPS)
Splinterlands (SPS) is one of the newest gaming cryptocurrencies around, but it's already made a name for itself. The governance token of the open-world Splinterlands game, it was launched on Monday. It quickly shot up to an 'all-time high' of $1.07, although it is down to $0.709393. This still represents a 155% increase in 24 hours, so it's hands down the best performer of the day.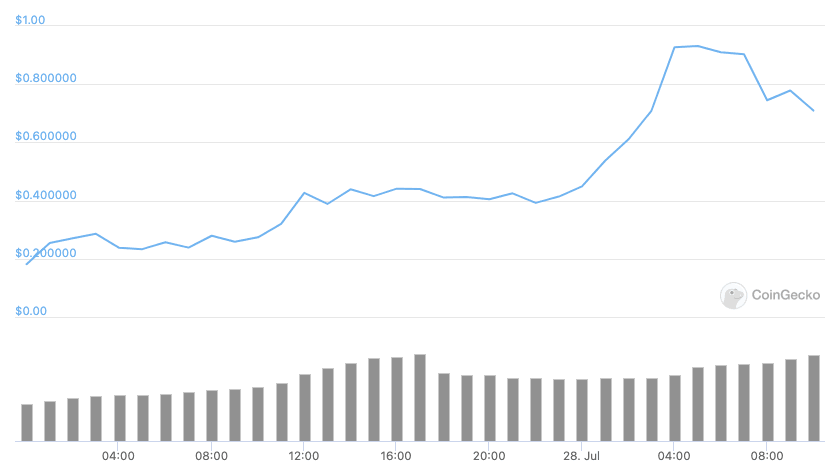 SPS' launch comes off the back of a private token sale which raised $3.6 million. The tokens sold have to be held for at least 10 months before they can be sold.
As for Splinterlands, it has existed as a decentralised trading-card game for around three years. In that time it has amassed over 150,000 users, while it also recently witnessed one million transactions on its platform for seven consecutive days. This growth shows why it's one of the 5 best crypto gaming coins for high returns.
The daily average number of transactions is now over 1 million for the last 7 days.

Data from https://t.co/FdTxsqY1zT#Splinterlands #SPS #Splintershards #play2earn #crypto #gaming #blockchain #blockchaingames #NFTs pic.twitter.com/KyvH0NuulO

— Splinterlands (@splinterlands) July 27, 2021
3. Decentraland (MANA)
Before Axie Infinity, Decentraland (MANA) was arguably the hottest property in crypto-gaming. Yet despite being overshadowed by AXS, MANA continues to perform well and post significant gains. It's currently priced at $0.692917, which is a 3% rise over 24 hours. It's also up by 32% in the past week and 40% in the past 30 days. On top of this, it has appreciated by just over 1,500% in the last year.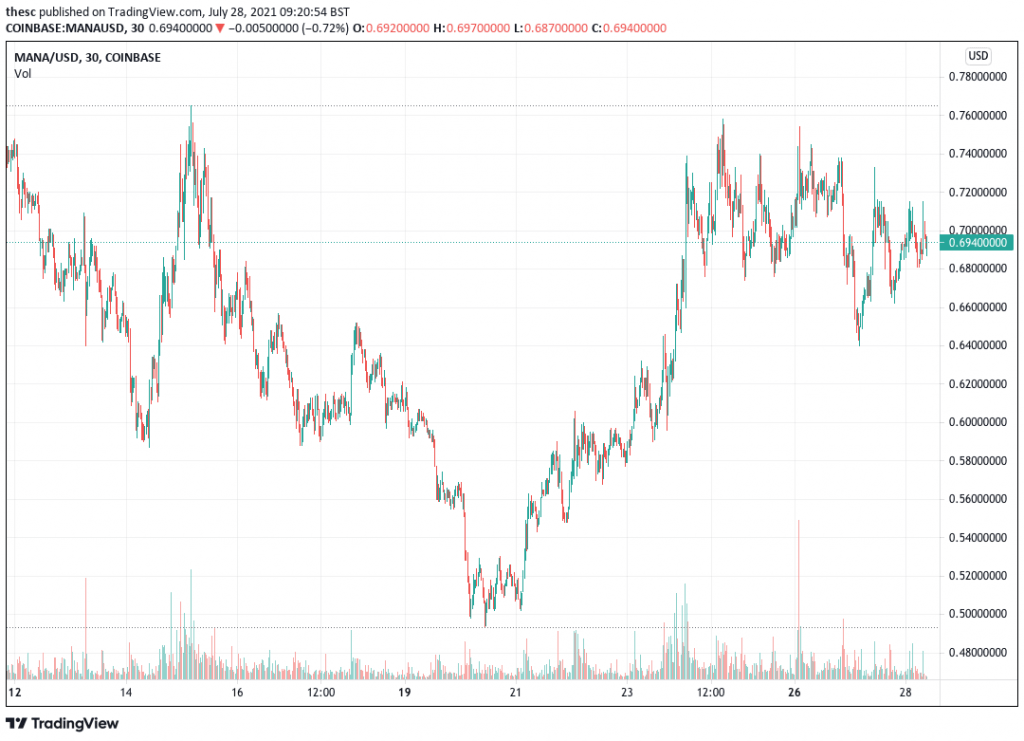 MANA is currently 56% below its all-time high of $1.60. However, it continues to be the second-most popular decentralised video game (behind Axie Infinity), with some 151,000 followers on Twitter. It also continues to remain in the public eye, with its recent teaming up with major auctioneers Sotheby's gaining coverage outside of the cryptocurrency media. Samsung also added it to its Blockchain Keystore in July.
4. Enjin Coin (ENJ)
Enjin Coin (ENJ) has had a strong week. It's up by 32% in the past seven days, and by a more modest 1% in the past 24 hours. More impressively, it's up by 680% over the last 12 months.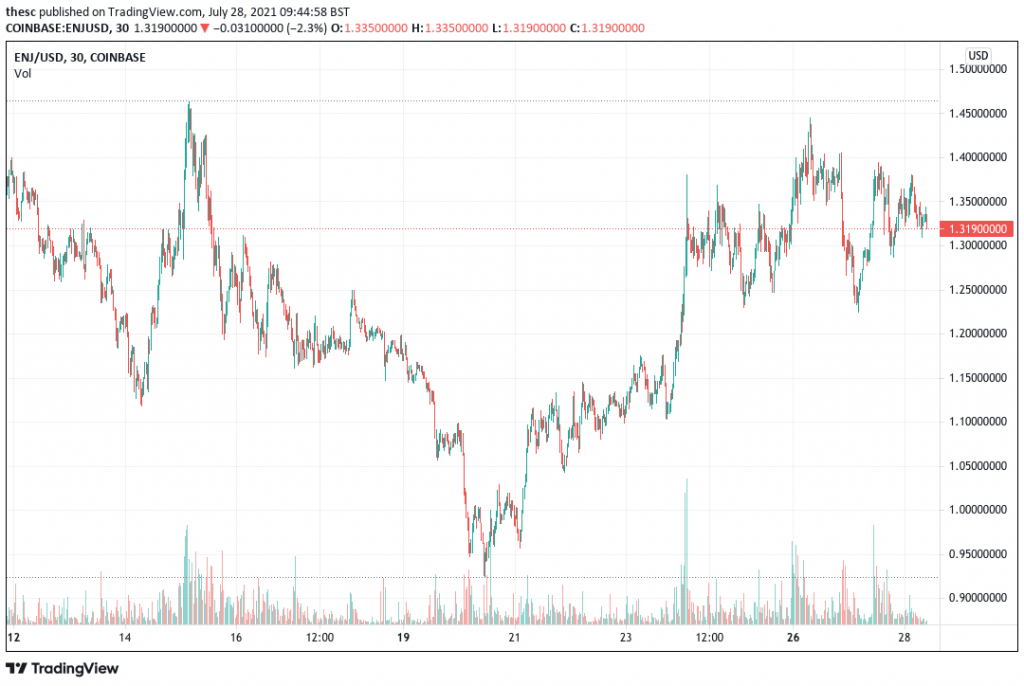 As a platform for building digital assets (e.g. NFTs) that can be integrated into blockchain-based games, Enjin has plenty of potential for growth. It recently boasted of reaching a whopping 20 million users. And with ENJ being used to directly back the NFTs generated on Enjin, demand for the token is likely to continue growing in parallel with the platform.
@enjin exploded to over 20 million users in just a few years. The project started as a social network for gaming communities & later launched a game-changing NFT platform.

Watch our interview with #Enjin: https://t.co/JjSvZcvmdF pic.twitter.com/mFUJDglgEY

— Kraken Exchange (@krakenfx) July 18, 2021
Enjin has also celebrated other milestones in recent weeks. It was accepted into the UN's Global Compact initiative in July, which commits participating organisations to pursuing sustainability and ethical goals. This was mostly by virtue of Enjin's aim of shifting to carbon-neutral NFTs by 2030.
5. My Neighbor Alice (ALICE)
My Neighbor Alice (ALICE) is the least well-known coin on this list, but it happens to be one of the best-performing. It's up by 11% in the past seven days, at $13.16. More notably, it has risen by just over 190% in a week and by 240% in 30 days.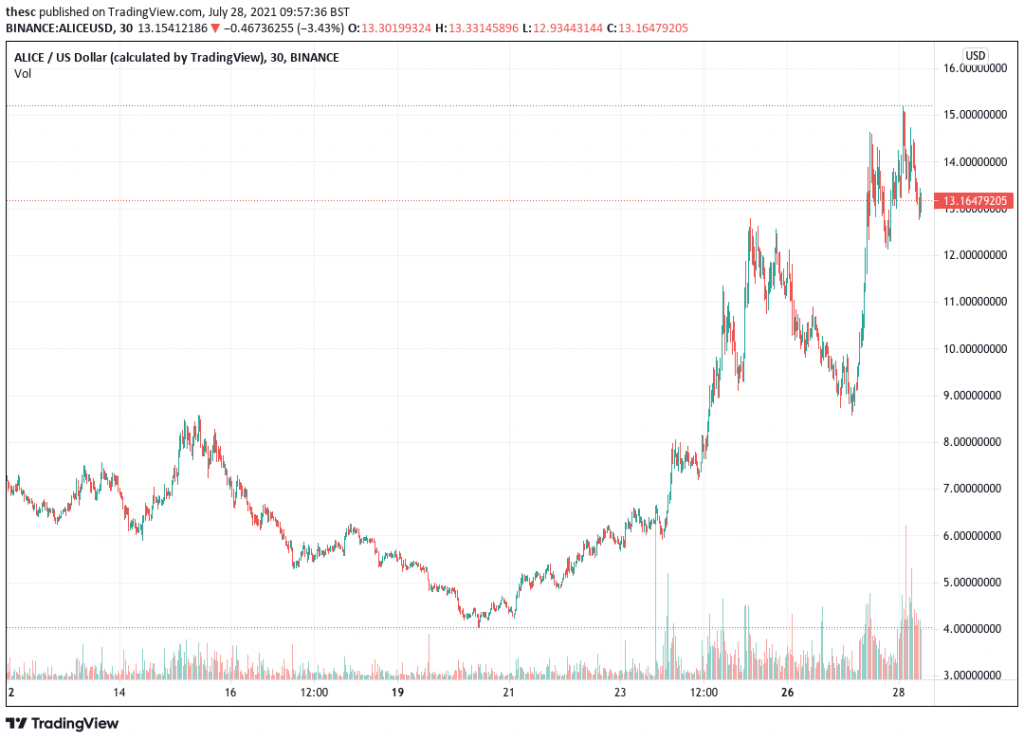 ALICE is still 67% below its all-time high (set on March 15) of $40.93. However, this arguably gives it plenty of room for further jumps over the next few weeks.
Indeed, the recent growth of the My Neighbor Alice game suggests that ALICE can continue rising upwards. The game — which involves building virtual islands and collecting items — passed 100,000 social media followers towards the end of June,
We are sincerely grateful for our solid, growing community of 100K!

Your support is truly inspiring us to give you only the best. Thank you to each and every one of you here pic.twitter.com/iWKQw6tKzN

— Alice (@MyNeighborAlice) June 23, 2021
Capital at risk