5 Best New Cryptocurrency To Buy Now August 2021 Week 2
The cryptocurrency market has fallen in the wake of
AXS hit its all-time high of $52.17 on July 27. Despite falling back down in the week or so that followed, it's creeping back up again. Put differently, this may be the last time traders have the opportunity to buy it at a 'discount.'
And it's very likely that AXS will continue rising. Its native platform, the decentralised video game Axie Infinity, is becoming more popular with every passing week. It now stands at 910,000 daily active users, having been at 61,125 as recently as the end of May. This represents over 1,300% growth in less than three months.
2. Internet Computer (ICP)
Internet Computer (ICP) has fallen sharply since hitting an all-time high of $700 on its launch, back on May 10. At $38.33, it's flat over 24 hours and down by 5% in a week. Nonetheless, it's up by 33% in a fortnight.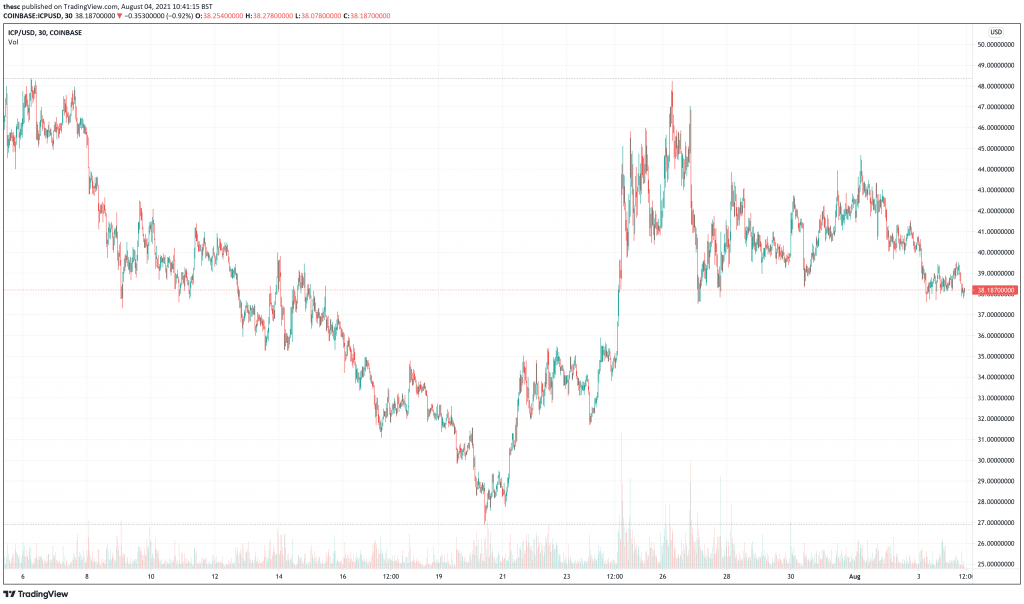 While ICP has dropped by a whopping 94% since its ATH, it remains one of the most exciting projects in the sector. Its native platform, Dfinity's Internet Computer, plans to decentralise the cloud and internet. It will comprise a network of smart contracts capable of running a variety of apps, with ICP serving as a governance token and as 'power' for computational processes.
Demand for ICP will therefore grow in lockstep with Internet Computer. And make no mistake, Dfinity has big plans for the platform. Having raised $102 million in a 2018 funding round led by Andreessen Horowitz and Polychain Capital, it also launched a CHF 200 million development fund in May. It is, in other words, serious about scaling up its network and capabilties.
1/ Announcing the CHF 200M Internet Computer Developer Ecosystem Program, a resource that will help finance the building of dapps, tooling, and infrastructure on the #InternetComputer. https://t.co/fN7UhkLd2a

— DFINITY Foundation (@dfinity) May 25, 2021
It is, in other words, serious about scaling up its network and capabilities. And it seems as though it's already having success in doing just that. For instance, it recently celebrated passing 2,000 smart canister contracts, indicating that developers are beginning to deploy applications.
Canister smart contracts running on the #InternetComputer surpassed 2,000

Canister smart contracts are computational units powered by cycles. An increase in Canister smart contracts speaks to the growth in developer activity on the network.

Live stats: https://t.co/e4FaOV7tnq pic.twitter.com/toRfK01Oo0

— DFINITY Foundation (@dfinity) July 28, 2021
Given its current low price, and given the resources behind it, ICP seems like a pretty good investment right now. It's certainly one of the 5 best new cryptocurrency to buy now.
3. Splinterlands (SPS)
Splinterlands (SPS) is one of the newest (and most exciting) coins around. It launched on July 26, and proceeded to rise to $1.07. Unfortunately, it has since climbed down, to $0.262926. However, this represents a 44% increase since its all-time low of $0.181510, which was set on its launch day. It's also 7% up in the past 24 hours.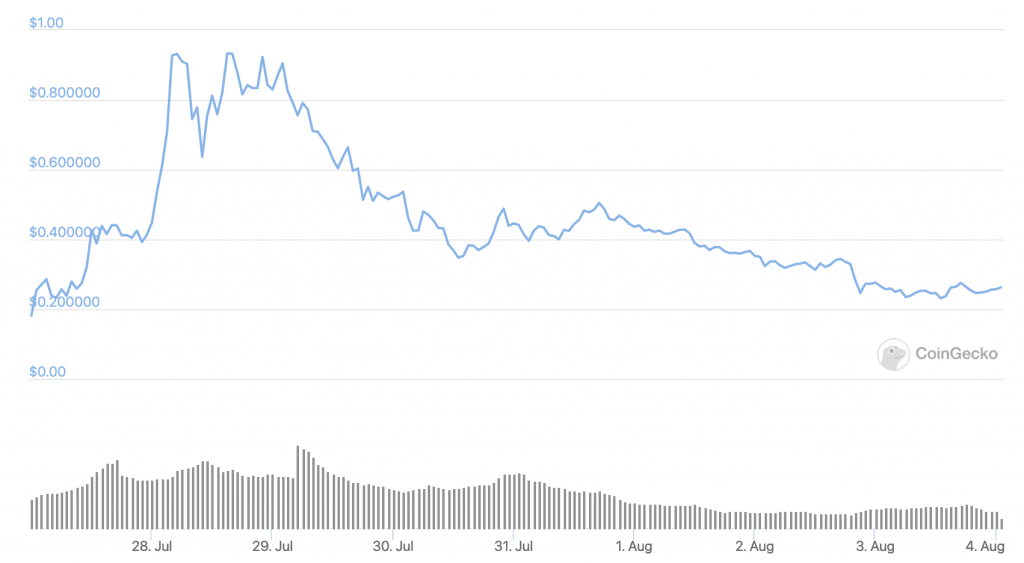 As for the Splinterlands game, it has also experienced exponential growth in recent weeks. According to a recent blog post, its daily sign-ups have multiplied by ten times in the last month, from 500 registrations at the beginning of July to over 5,000 registrations every day in early August. It doubled its total number of users in the last month and a half, to just over 200,000.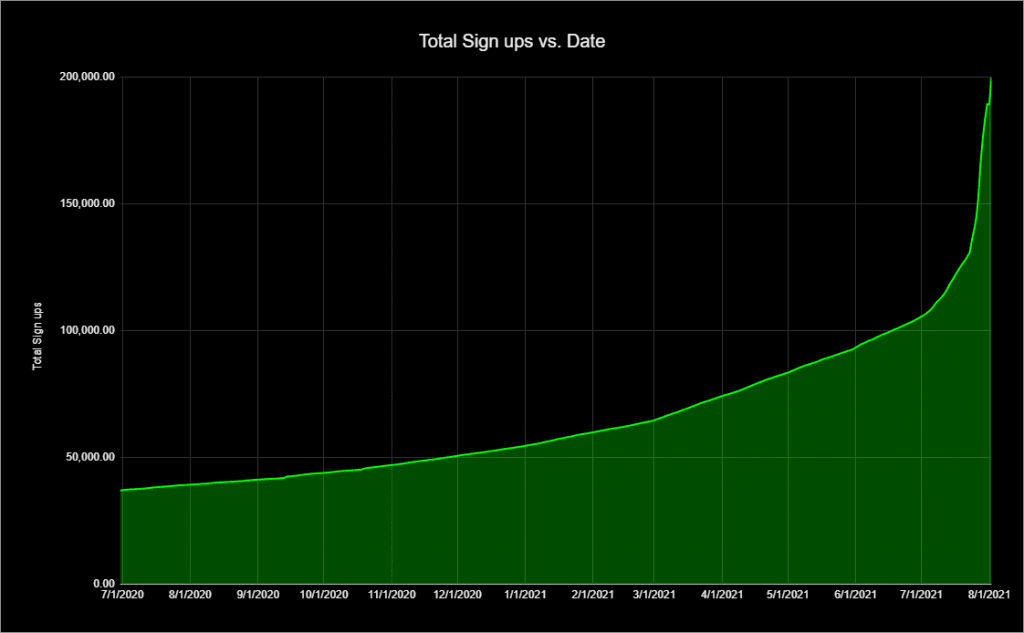 It's this growth that makes SPS one the 5 best new cryptocurrency to buy now. As a native token which can be used for staking, governance and in-game events and promotions, it will rise in price in tandem with the game.
4. THORChain (RUNE)
While RUNE itself has been around for a few years, it has gained fresh momentum since the launch of the THORChain mainnet, which went live in April. It has risen by over 1,400% over the past 12 months, in anticipation of THORChain's launch. After reaching an all-time high of $20.87 in May and then falling again, it has since surged by over 100% in the past 14 days. It's also up 83% in the past week and by 4% in the past 24 hours.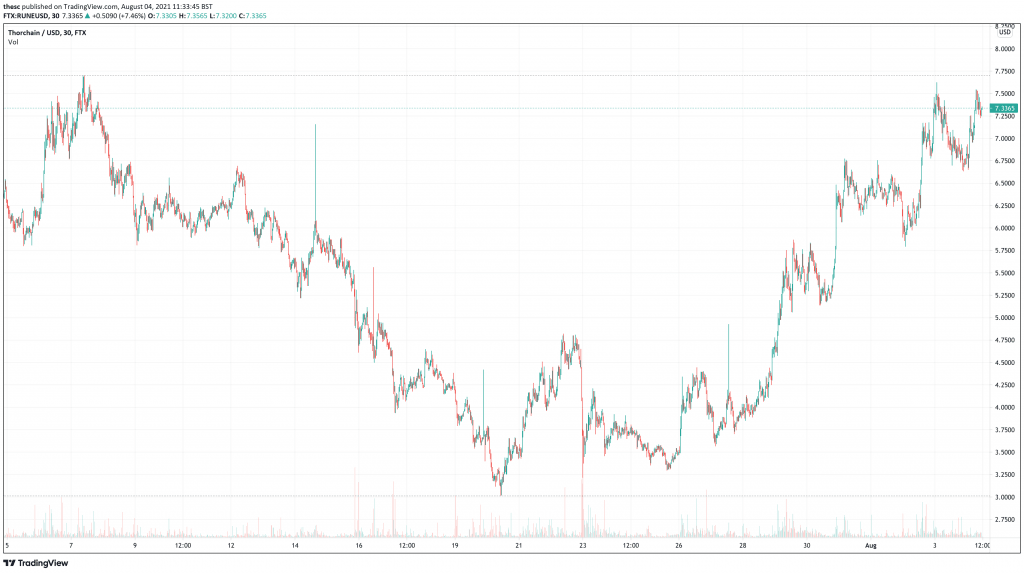 THORChain is a Cosmos-based decentralised liquidity network, letting users deposit cryptocurrencies and earn yield for providing liquidity. From having only $2 million total value locked in April, it now accounts for some $100 million. This represents growth of 4,900%.
And when it comes to tokenomics, THORChain says that around 25% of RUNE's total supply is locked up in its platform. Assuming that it grows further, more RUNE will be locked up, ratcheting up its price even further.
5. Polygon (MATIC)
Polygon (MATIC) is another cryptocurrency which has actually been around for a while, but which has only really come to prominence in the last few months. At $1.01, it's flat over the past 24 hours and down by 2% in the past week. However, it's up by 45% in the past fortnight, and by over 4,800% in the past year.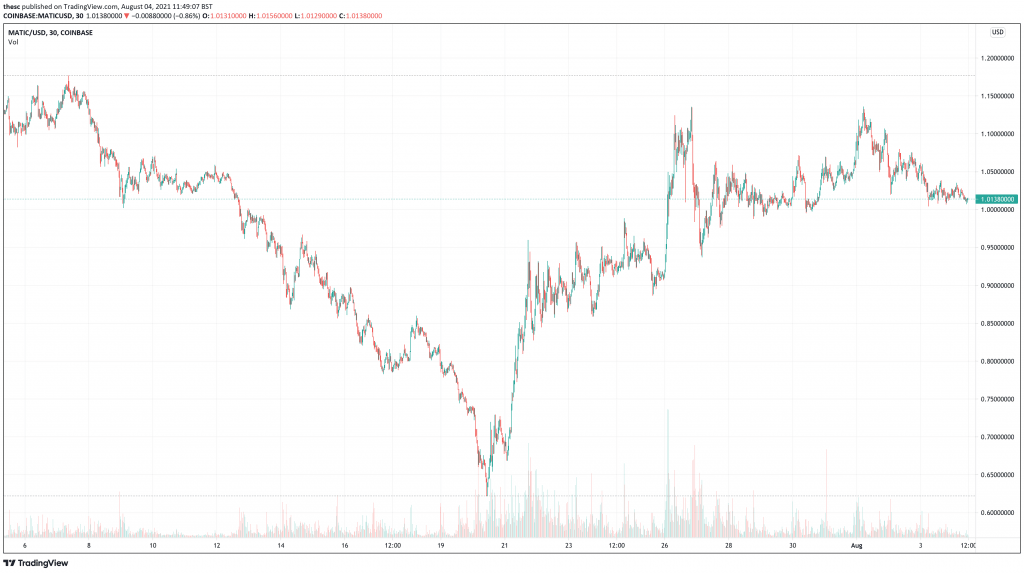 Polygon is a second-layer scaling platform for Ethereum-compatible applications. It has enjoyed considerable growth in recent months, particularly as the Ethereum blockchain itself has become congested (and expensive). It currently boasts $8.5 billion in total value locked in, compared to $1 billion at the beginning of April. It also launched a software development kit for companies wanting to build their own Ethereum-compatible blockchains. And in July, it rolled out Polygon Studios, a service tailored for blockchain-based gaming and NFTs.
Presenting Polygon Studios: our brand new arm for the Blockchain Gaming & NFT ecosystem. This will cement Polygon's existing lead position as the de-facto platform for NFTs & Gaming!@_PolygonStudios aims to bring the Web2.0 world to Web3.0.

https://t.co/Qzi5ywbljJ https://t.co/MpVdQS46pP

— Polygon (@0xPolygon) July 19, 2021
67% of retail investor accounts lose money when trading CFDs with this provider