5 Top Cryptocurrency To Buy This Week [BTC,ADA, YFI, SOL, FIL] August 2021 Week 1
Discovering the top cryptocurrency to buy is no small feat. There are just too many digital assets to choose from making it expedient to choose the best ones that guarantee great returns. In this article, we review the best cryptocurrencies you should buy this week.
1. Bitcoin (BTC)
To put into perspective, since launching in 2009, Bitcoin has grown 9 million percent and currently controls 50% of the market. This makes it a top cryptocurrency to buy, given its phenomenal growth in a dozen years.
The top cryptocurrency is a clear favorite of investors since making a remarkable run to $20,000 in 2017. It shattered its previous record rising to $65,000 in April 2021 and led the crypto industry to a $2.5 trillion valuation.
Bitcoin compared to the adoption curves of other industries.

It is still so early. pic.twitter.com/xI9BkLqOIC

— Dan Held (@danheld) July 17, 2021
Bitcoin's phenomenal growth has served as a beacon to both retail and institutional investors who consider it as a store of value given its hard-cap limit of 21 million coins to be ever mined.
This has seen its gaining mainstream adoption as more businesses look to hedge against growing inflation figures.
Joining a growing BTC adopters' trove, popular fast-food restaurant Quinzo announced that it would be adding support for BTC as a payment option for meals. This partnership will be with the digital asset marketplace Bakkt.
Meanwhile, Bitcoin is down 1.48% in the last 24 hours. It is trading at $37.802.46 and is building bullish momentum. It is trading above the 20-day moving average (MA) support price of $35,985.31.
2. Cardano (ADA)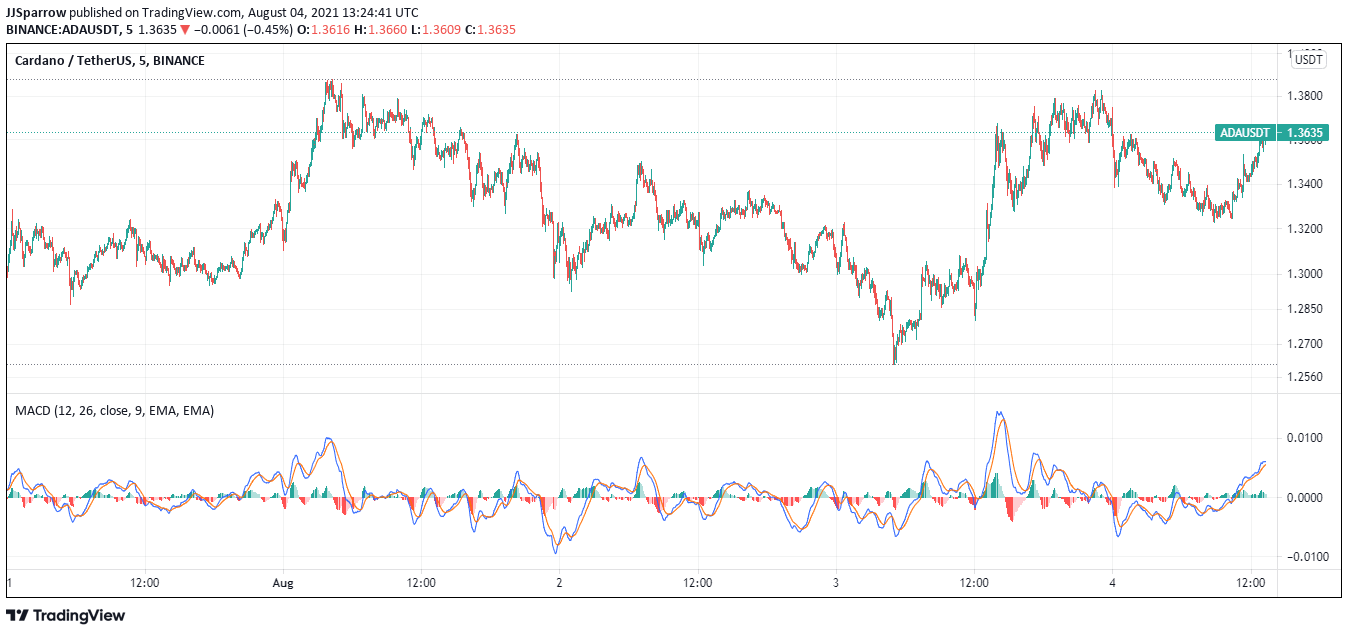 Cardano is a top cryptocurrency to buy, given its value proposition and growing adoption. Popularly called an 'Ethereum killer,' the Cardano network is a peer-reviewed blockchain
that aims to build a secure, sustainable, and interoperable blockchain platform. It uses a proof-of-stake (PoS) consensus algorithm dubbed Ouroboros.
The #Cardano community includes hundreds of awesome creators & coders. So each weekend, we do a shoutout or two.

Today, it's huge kudos to @cardano_nft & their community hub for all #Cardano NFT projects!

Know someone who should be featured? Tag them! #CardanoCreators pic.twitter.com/JHkPlpNJgT

— Input Output (@InputOutputHK) July 31, 2021
The Cardano network has made waves since launching five years ago. The project has become an investor favorite given its plans to build the next generation of blockchain technology, enabling the use of smart contracts technology and allowing developers to build decentralized applications (dapps).
With decentralized finance (DeFi) gaining mainstream adoption, Cardano is expected to be one of the top dapps platforms soon. Cardano's ADA token has seen its value surge in the last six months. It surged to $2.20 despite the market crash that crippled the crypto space in May. However, its value has since dipped by 40%.
Cardano was finally listed in Japan! $ADA

Japan has extremely strict rules for crypto exchange listings.

Only a small number of tokens can be listed in Japan, and ADA is now on that list! https://t.co/n2oxPHKa36

— Sebastien Guillemot (@SebastienGllmt) August 3, 2021
At press time, ADA is trading at $1.3363, up 2.10% on the daily chart. ADA is also gaining traction as it recently received regulatory approval to list on a Japanese crypto exchange.
3. Yearn.Finance (YFI)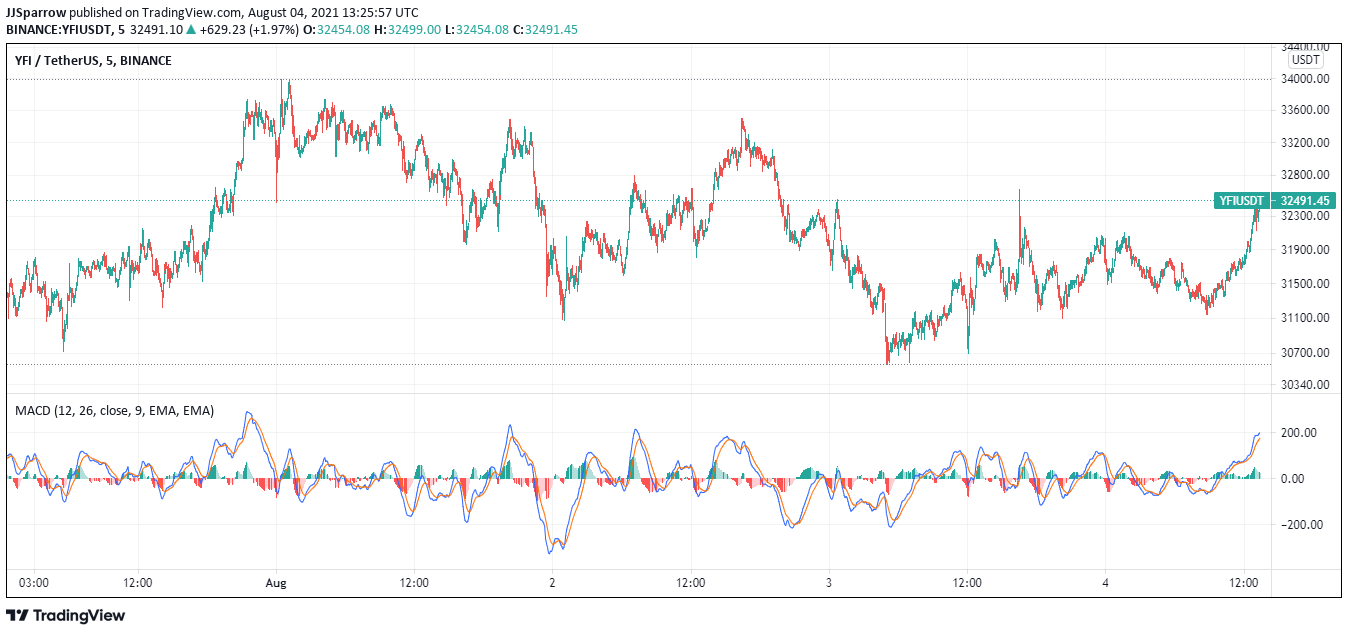 Yearn Finance is a major player in the DeFi sub-sector as it runs an aggregation protocol for DeFi investors. Its relevance in the burgeoning DeFi space makes it a top cryptocurrency to buy. Yearn Finance uses automation tools to maximize profits from yield farming.
The development team says Yearn Finance wants to simplify DeFi investment for non-technical investors. It currently runs on the Ethereum network and offers other services like lending aggregation and insurance.
Even though the decentralized protocol is just a year old, Yearn Finance has had a phenomenal 2021. It surged to a mouth-watering $93,000 in the crypto boom of April before market pressure saw its value slashed by one-third.
Despite this, the crypto protocol is still one to watch out for. The YFI token is used for network fees and as a governance token.
YFI is showing signs of recovery and is up 1.70% in the last 24 hours. It is trading at $31,447.89. The ERC-20 token is currently on a bullish run and is trading above the 20-day MA at $29,777.90.
Yearn Finance founder Andre Cronje recently introduced a new concept to transfer value across borders easily. Named Fixed Forex, users will be able to enjoy offerings from both cryptocurrencies and traditional fiat.
4. Solana (SOL)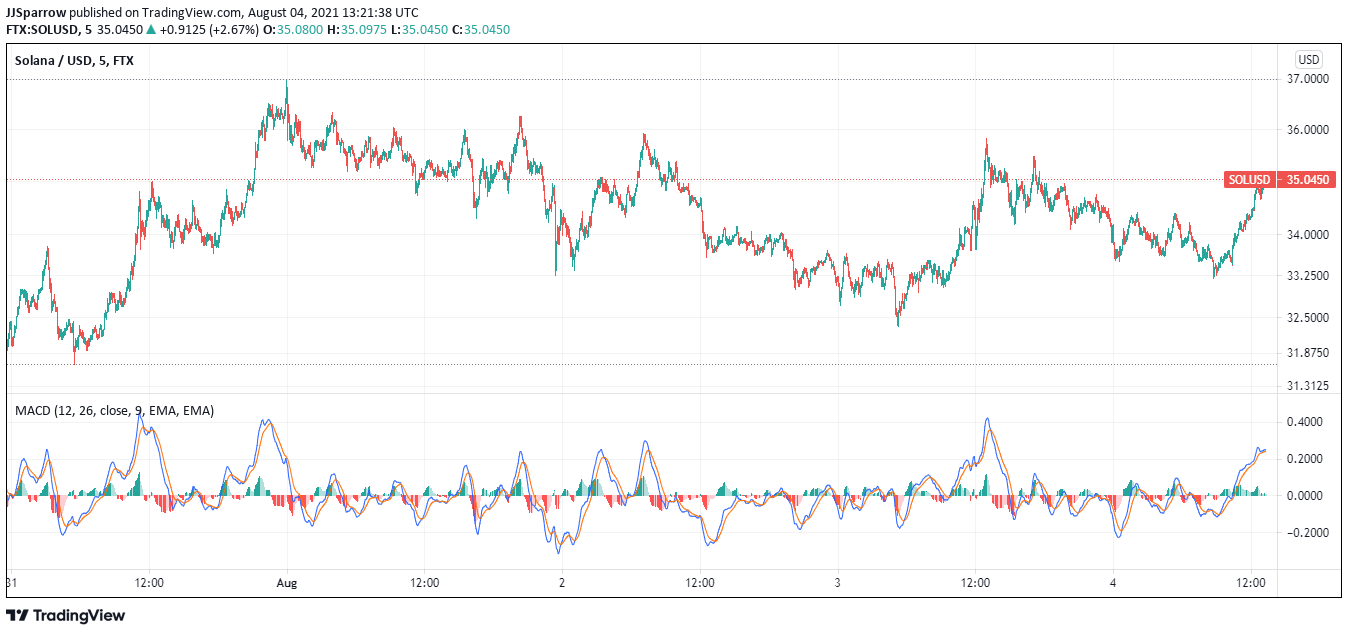 Solana is another decentralized blockchain platform that provides DeFi solutions and a top cryptocurrency to buy.
Dubbed the 'Ethereum killer,' the Solana blockchain uses a hybrid consensus mechanism combining the well-known proof-of-stake (PoS) protocol and an innovative proof-of-history (PoH) timing mechanism.
Why @solana matters in one image pic.twitter.com/rLZZ2J2XEM

— Joe McCann ◎ (@joemccann) May 20, 2021
This twin mechanism makes the Solana network one of the fastest dapps platforms in the crypto space, currently boasting a base transaction speed of 50,000 TPS.
Founder Anatoly Yakovenko believes that the Solana network will likely scale up to 700,000 TPS in the future.
The Solana blockchain is also cost-effective, and developers pay minimal fees to build on the platform. This has served as a unique selling point for the blockchain platform and has attracted several DeFi startups.
Major dapps have also looked to the Solana blockchain to scale their platforms, with Power Ledger being a recent addition to the blockchain.
Solana's SOL, which started the year at $1.7, has surged more than 800%, rallying to a record $55. However, the crypto market crash saw most of its gains eroded. SOL is currently trading at $33.436 and is up 0.73% on the daily chart.
5. Filecoin (FIL)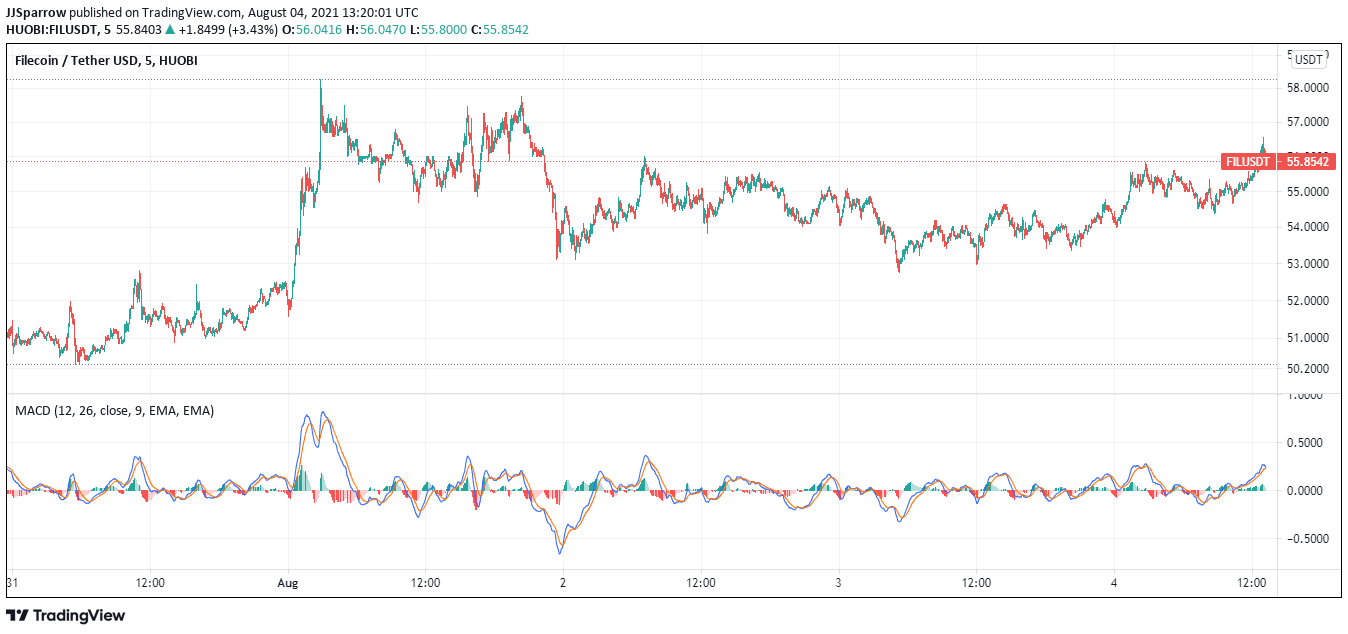 Filecoin is a blockchain platform that enables the decentralized storage of important data and information.
Its unique value as a data storage center for the blockchain ecosystem has seen several blockchain platforms turn to the Filecoin protocol to help them keep important documents safe.
Filecoin was founded by Juan Benet and is a sister blockchain to the Interplanetary File System (IPFS) – a peer-to-peer (P2P) network. It aims to break the monopoly of centralized storage service providers like Amazon, Google Cloud, and Azure.
Filecoin allows users to be the sole custodian of their data which takes away the fear of censorship. It is an open protocol and uses the proof-of-replication (PoR) and proof-of-spacetime (PoST) mechanisms to ensure the integrity of user data on its blockchain. It incentivizes participants on its network by rewarding validator nodes with FIL tokens.
FIL is up 0.95% and has a weekly increase of 9.03%. It presently trades at $54.70 and is currently on a bullish run.
Filecoin is also seeing growing adoption in the blockchain ecosystem. Australia-based Holon Global Investments has launched the Holon Wholesale Filecoin Fund, which enables investors to trade another crypto asset apart from the major ones.
67% of retail investor accounts lose money when trading CFDs with this provider