5 Next Cryptocurrency To Explode July 2021 Week 4
The cryptocurrency market has rebounded after yesterday's selloff. Its total value slid as low as $1.2 trillion, but has now partially recovered to $1.3 trillion. At the same time, the major cryptocurrencies have risen by anything from 3% to 17% in the past 24 hours. This highlights how market falls offer the potential for some big gains, provided you pick the right horse. Accordingly, we've put together a list of the 5 next cryptocurrency to explode in the next market bounce. This covers coins with great short-term potential, as well as a couple with more longer term value.
5 Next Cryptocurrency To Explode
1. Bitcoin (BTC)
At the risk of repeating ourselves for the dozenth time, the market almost never rises without bitcoin (BTC) rising first. Sure, it hasn't rebounded as strongly as other coins, rising by 3% in the past 24 hours. Nonetheless, it didn't fall as drastically yesterday, so it's not quite as risky. Meanwhile, its reliability in leading market recoveries means it can usually be depended on for a jump if you time your entry right.
As with the rest of the market, bitcoin is down over most short-term timeframes, despite rising today. At $30,800, it's down by 5% in the past 7 days, by 10% in the past fortnight, and by 14% in the past 30 days. However, it is still up by over 200% in the past year.
And even though BTC has rebounded more modestly compared to some altcoins, it arguably has the biggest potential for exploding in the future. Various pricing models — including stock-to-flow and its 11-year exponential trend — indicate that it should be nearing $100,000. A recent survey of industry figures and researchers also found that a majority expect a price of over $60,000 by the start of 2022.
At the same time, bitcoin remains the only cryptocurrency to attract significant interest from mainstream investment and commerce. El Salvador's adoption of BTC is the most famous/notorious recent example. Yet we've also seen Bank of American launch bitcoin futures trading in the past few days.
This adds to the already fairly long list of banks offering bitcoin investment services. It also qualifies bitcoin as one the 5 next cryptocurrency to explode.
2. Cardano (ADA)
Cardano (ADA) has rebounded more strongly than most other major coins. It's up by 7% in the past 24 hours, to $1.13. Despite this good news, it remains down by 10% in the past week and 21% in the past 3o days. It's also 53% below its ATH of $2.45.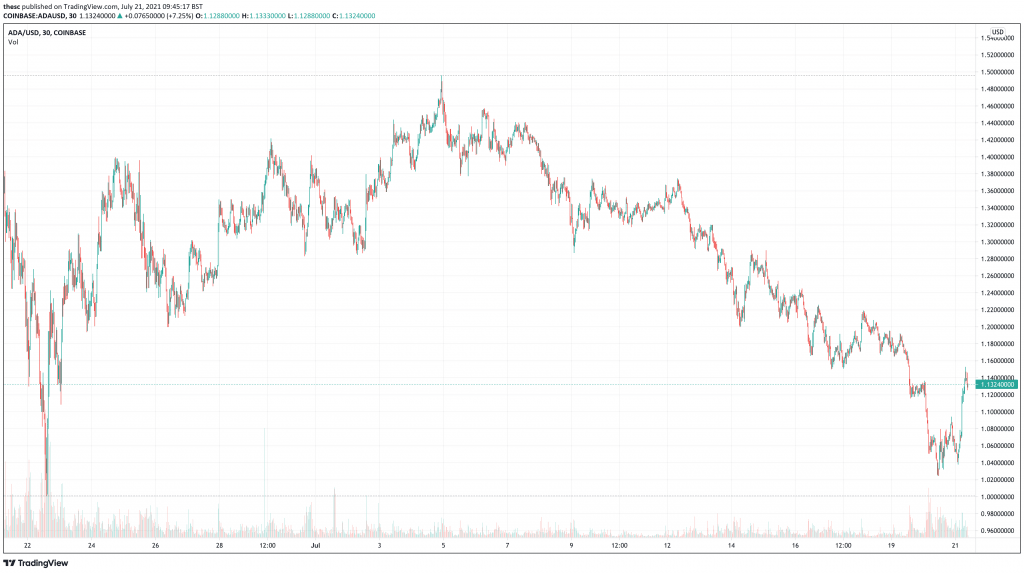 Such falls are in line with the rest of the market, although ADA hasn't fallen as much as some altcoins (e.g. DOGE is 75% below its recent ATH). At the same time, it shows some of the biggest potential to explode in the coming weeks and months.
In particular, Cardano is due to add smart contract and DeFi functionality with its Alonzo update. This is due in August, while the testnet for Alonzo was launched a few days ago, indicating that everything is on track.
ICYMI: Last week, we successfully hardforked into the #AlonzoWhite testnet phase @timbharrison caught up with some of the team working on the program. Here's our mid-month update on the progress so far #Cardano #Alonzo #Goguen #smartcontractshttps://t.co/unZ6O07YKm

— Input Output (@InputOutputHK) July 19, 2021
Once Cardano has launched smart contracts, it will become a serious rival to Ethereum. More importantly, its support for dApps will invite increased demand for ADA. And all other things being equal, this will equal a higher price.
3. Polygon (MATIC)
Polygon (MATIC) is the strongest performer of all top-50 coins over the past 24 hours. It's up by 20% today, to $0.789387. However, this means it's still down by 30% in the past fortnight and by 43% in the past month. It's also 70% below its all-time high — set on May 18 — of $2.62.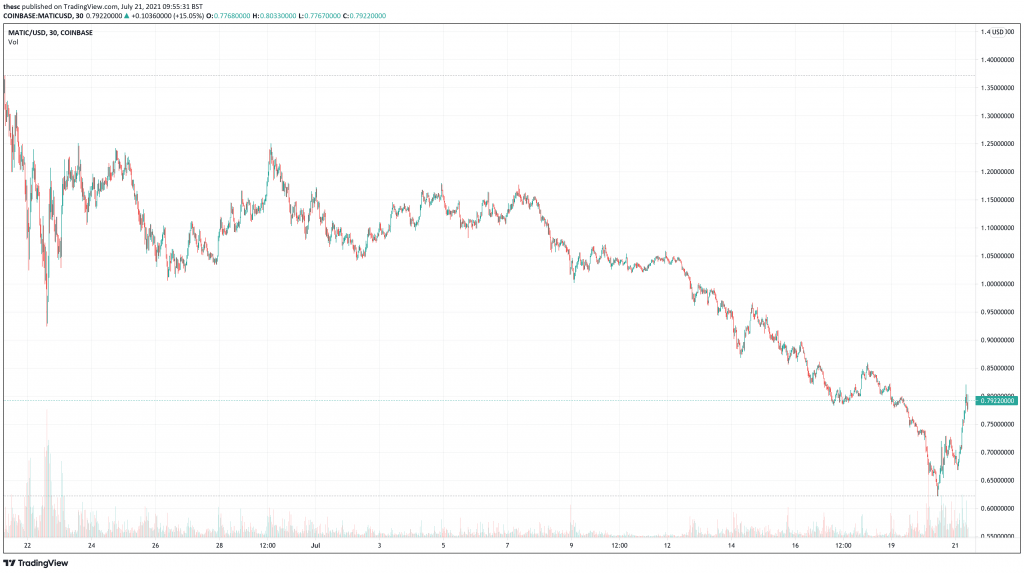 These are big falls, yet they arguably foretell just how high MATIC will rise during a future bull phase. It has been the best-performing top-50 coin over the past 90 days, during which period it increased by 119%.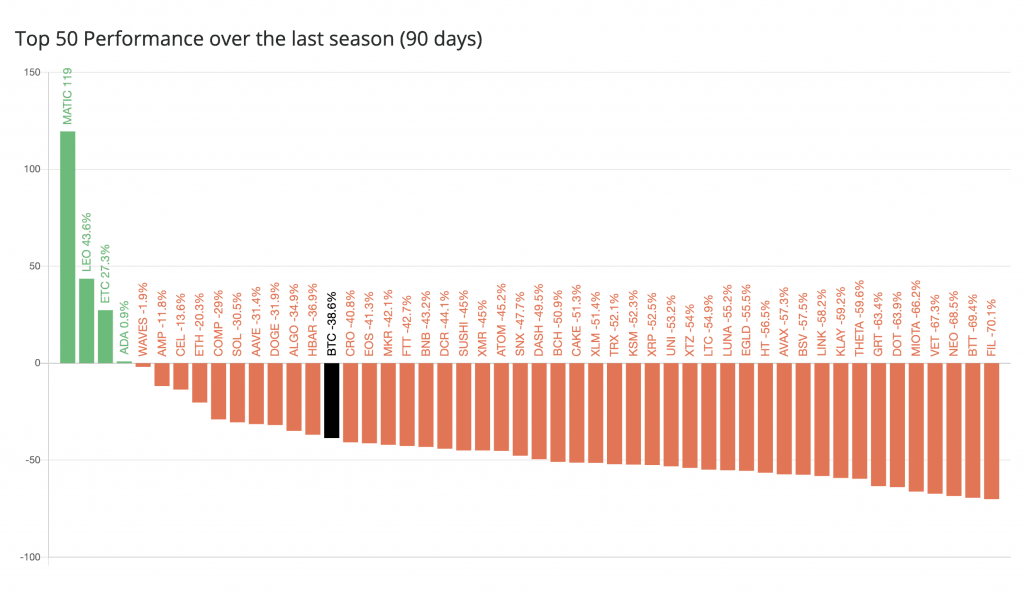 When the market more fully recovers, MATIC is one of the best-placed coins to rise strongly. That's because Polygon has grown considerably in recent weeks. It launched an SDK in May that lets developers build Ethereum-compatible blockchains, while a wide range of projects have launched on it in the face of high Ethereum fees. And as a layer-two scaling network for Ethereum, it's in a strong position to benefit from the expansion of the wider cryptocurrency ecosystem.
4. Internet Computer (ICP)
Internet computer (ICP) has had a tough time since reaching its ATH of $700 on May 10. It since fell by 95%, hitting an all-time low of $27 during yesterday's market-wide rout. However, such steep drops set the scene for strong rebounds, and in this respect, ICP has outperformed many major coins. It's up by 9.5% in the past 24 hours, having risen to $31.36.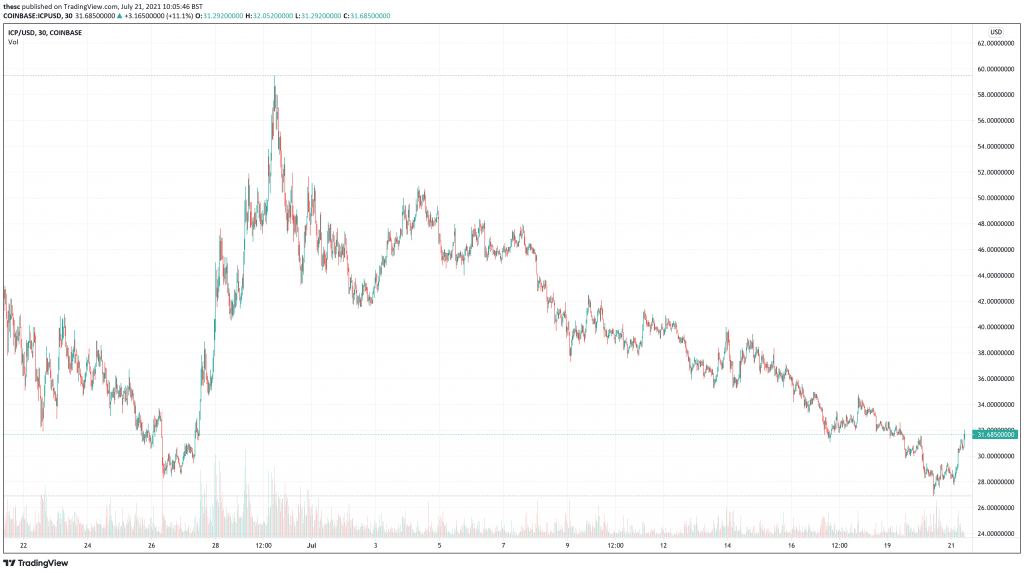 Yet it's not only short-term rebounds that make ICP one of the 5 next cryptocurrency to explode. It's also the long-term potential of the Internet Computer platform. Launched by the Switzerland-based DFINITY in May, it aims to decentralise the cloud. This means that, aside from supporting DeFi platforms and dApps, it will also more traditional normal web applications and services.
Such ambition is the reason why Internet Computer was able to secure $102 million in venture capital from the likes of Andreessen Horowitz and Polychain Capital. More recently, it launched a $220 million developer fund, which has enjoyed a surge in applications from interested parties. This shows that it has a very good chance of realising its aims, and that ICP could become a very hot token.
1/ Within 2 weeks of launching the Internet Computer Developer Ecosystem Program, we've received +130 proposals

A committee is reviewing submissions and working with development teams around the world to grow the #InternetComputer developer ecosystem. https://t.co/b8RX9OjEKA

— DFINITY Foundation (@dfinity) June 8, 2021
5. Compound (COMP)
Compound (COMP) is another strong rebounder. At $367, it's up by 15% in the past 24 hours. Unlike many other coins, it's also up by 25% in the past 30 days. Still, it does remain 59% below its ATH of $910, set on May 12.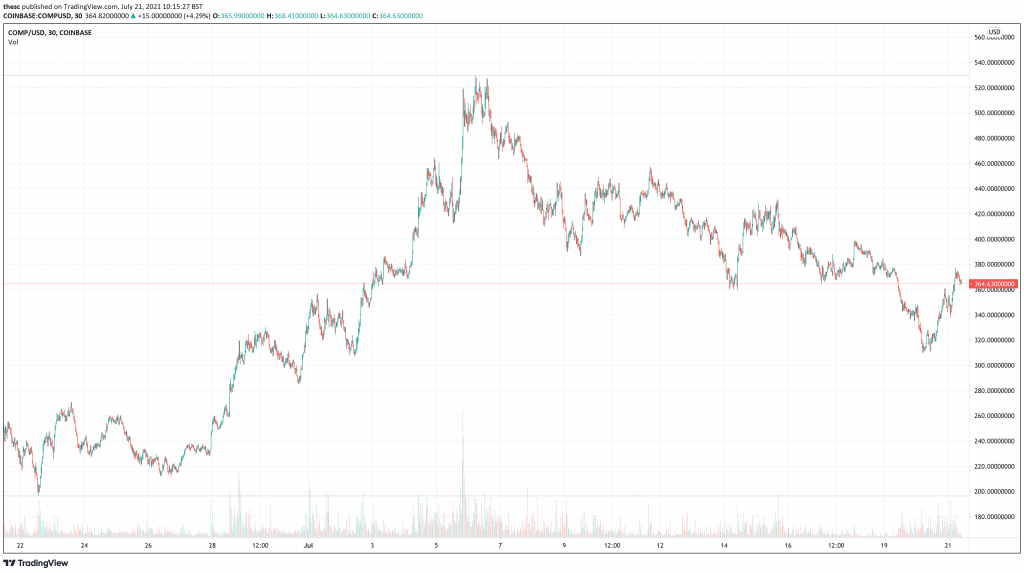 Compound is the native cryptocurrency of the Compound DeFi platform. The latter lets users lend or borrow crypto, and is currently the third-biggest DeFi platform in terms of total value locked in. It boomed during the bull market, and while things have obviously quietened down now, Compound looks more likely to attract future use and adoption than many of its rivals.
Compound Treasury is currently available to customers in California.

Learn more at https://t.co/4iaoNvTlFj, or contact us at treasury@compound.finance

— Compound Labs (@compoundfinance) June 28, 2021
That's mostly because of the launch of Compound Treasury, a service that lets fintechs and other companies earn interest on deposited USD. When it launched on June 28, COMP rose from $250 to $510 in about a week. At the moment, Compound Treasury is available only in California, but it will be rolled out to the rest of the United States (and beyond). And when it does, it could greatly increase demand for COMP.
Capital at risk